North Country inns reach out to gays, lesbians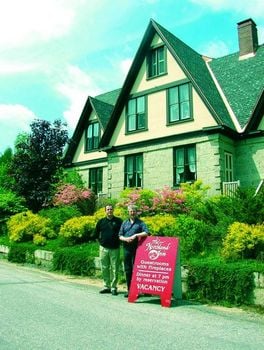 When Les Schoof and Ed Butler moved to New Hampshire in 1993, they faced a big change in lifestyle.
Schoof and Butler are a gay couple who had lived in Boston and New York City. Their new home would be Hart's Location, population 39 — a rural outpost in the heart of the White Mountains. As owners of the Notchland Inn, they'd be running one of just a handful of gay-owned or explicitly gay-friendly businesses in the area.
Butler admits he had a few trepidations, but both men wanted to get away from the city. He recalls, "We felt pretty secure in ourselves that we could make a go of it almost anywhere in any neighborhood."
Eleven years later, they've not only made a go of it, but they've also seen gay-owned and gay-friendly businesses multiply around them. The Mount Washington Valley Chamber of Commerce even added a "gay-friendly" designation to its listings two years ago. Now, 62 of the 174 properties listed claim that description.
Schoof isn't surprised. "I think people who really understand New Hampshire understand it's about acceptance and a live-and-let-live attitude," he says.
Industry gurus attribute the rise in gay-friendly inns to savvy marketing.
"I think you're seeing two things," says the chamber's public relations manager, Marti Mayne, "innkeepers trying to develop niches, and an increasing acceptance of the gay traveler."
Internet marketing
Statistics make a powerful case for marketing to this particular niche. According to San Francisco-based Community Marketing, Inc., a gay tourism marketing group, 97 percent of gay respondents took a vacation within the past 12 months, as opposed to the national average of 64 percent. Gay men, in particular, are less likely to have children at home, so they have more disposable income and fewer family obligations.
As Ed Salvato, editor of the gay travel magazine Out and About, says, "Gay men travel more frequently, they're more likely to take last minute trips and they're far more likely to own a passport."
The nervousness and economic troubles following the September 11th terrorist attacks prompted many inns to reach out to new markets. "People are staying closer to home," says Mayne. "With changes in the economy people were less willing to part with money for travel."
At the same time, the growth of the Internet has made marketing to gays and lesbians easier. For a fee, inns can list themselves on gay travel sites like PurpleRoofs.Com or gayplaces2stay. That means reaching an international audience without having to advertise in multiple publications. It also means inns don't have to post a rainbow flag or pink triangle on their premises, which could alienate straight travelers or make the business a target for bigots.
Gay-owned inns aren't the only ones trying to lure gay travelers. Orlo Coots and his wife Judy bought the Sugar Hill Inn in Franconia two years ago. "I took a much more aggressive approach on the Internet than the previous owners," says Orlo Coots. "Our new business is easily 80 to 90 percent Internet."
Coots lists the inn on one or two gay travel sites. "I thought, they like to travel, they want nice places, and we're a nice place."
The inn even offers 5 percent off to guests who book through a particular gay Web site, but Coots isn't sure anybody has ever claimed that discount. He says guests often don't remember which Internet page they found the inn on.
'Outdoor people'
One drawback of marketing through gay Web sites: It can be hard to tell when the strategy is working.
In a 2002 Internet survey of more than 8,000 gays and lesbians, Syracuse University and OpusComm Group found 82 percent were more likely to purchase from businesses that identified themselves as gay-friendly. But is just putting your name on a Web site enough? Not necessarily, according to Salvato.
"I think there's been a little bit of skepticism," he said, adding that he sometimes calls inns and hotels in advance to find out what "gay-friendly" means. "I call up and say, 'Could you just give me a rough example, is one out of every hundred guests gay or one out of every five?' I just want to know. You can gauge a lot from people's answers. If they get all defensive, you know they're not super comfortable maybe with the market, but if they say we have staff that's gay, we have gay brochures, we can tell you what's in the neighborhood, there's this fabulous restaurant that two gay friends of ours own down the street — that would make me feel super comfortable."
Travelers heading for the White Mountains don't expect to find a lot of gay culture, however, according to Les Schoof.
"We are definitely defined away from Provincetown or Key West," says Schoof. "Obviously, we're not on the party circuit. Our clientele tend to be outdoor people. They want to be here in the mountains or in the garden."
At the very least, Coots and Schoof say appealing to gays doesn't appear to do any harm.
"In fact, by far and away our clientele is heterosexual," Schoof says. "But those people who choose to stay with us are not concerned about the fact that there's a female couple next to them at dinner or whatever. It just has not been an issue, not once."