North Conway Realtor spreads 'light to offer hope' amid pandemic
Badger Realty's Leavitt urges businesses to keep their lights on to raise spirits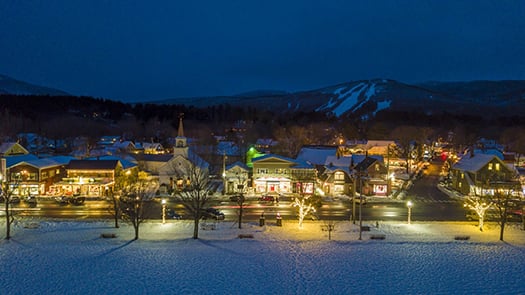 As businesses throughout New England struggle to find ways to cope and help others as the economic issues created by the coronavirus pandemic continue to move up the curve, Brenda Leavitt of Badger Realty in North Conway had a simple idea that's catching on in other communities.
"Let there be light to offer hope," she suggested to the Mt Washington Valley Chamber of Commerce.
From that suggestion, a movement is now underway for Mt. Washington Valley businesses to join other communities in encouraging businesses to leave their lights on at night to continuing offering hope to all.
Leavitt explained her revelation through a story about the late Dick Badger, owner and founder of Badger Realty.
"Our former leader, Dick Badger, deserves the credit for this idea. When we opened Badger Realty in Jackson many years ago, Dick would stop in after the office was closed and turn the lights on in the lobby. He always said, "We will leave the lights on for you!," she said. "There is nothing more concerning to me than darkness. Since our office is closed to the public traffic at present, I did not want the office to be dark. This is our way of lighting the way to hope."
As a result, wrote Janice Crawford, executive director of the Mt. Washington Valley Chamber of Commerce, in a letter to members, "We are suggesting that you keep your front door light and/or storefront lights on throughout the night to offer optimism and raise spirits.
In addition, she suggested "changing your light bulb to green is one more additional step you could make to add to the feeling. Green is the color of hope. If you still have your Christmas lights in your windows, consider changing the bulb to green and keeping them on."
Twinkling white lights in trees and hedges or around roof lines have also been encouraged to stay on or added – a phenomenon that's happening in communities around the country.
Already in North Conway Village, Badger Realty, Toy Chest, Spruce Hurricane and a growing number of additional businesses are leaving outside lights on all night to send a message of optimism to residents of Mt. Washington Valley and visitors.