North Branch completes START house
First facility-based respite home in New Hampshire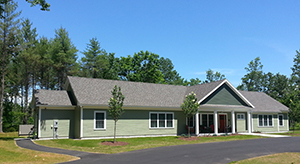 North Branch Construction Inc. of Concord recently completed construction of a new 3,200-square-foot, single-story, six-bedroom house in Boscawen for Community Bridges – the first Systematic, Therapeutic, Assessment, Resources, and Treatment – or START – facility-based respite home in New Hampshire.
Residents have already begun moving into the START house, which provides active therapeutic supports to individuals who have been determined to require out-of-home evaluation, stabilization and treatment implementation. The home includes an open-concept common room, kitchen and dining area, as well as separate meeting rooms.
Architect Susan Phillips-Hungerford of Peterborough designed the project.