Nominee: No to Nashua judgeship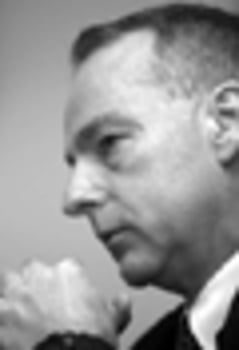 CONCORD – John Coughlin has formally withdrawn himself from consideration for the Nashua District Court judge post, Executive Councilor David Wheeler of Milford said Tuesday.
The Executive Council will cancel a hearing on Coughlin's nomination, which had been set for Dec. 14, Wheeler said.
The council unanimously confirmed Coughlin to become the full-time judge at Derry District Court at its meeting last Wednesday.
Gov. Craig Benson promptly swore Coughlin into office and nominated him for the Nashua post the same day, after withdrawing his previous choice, Milford attorney Marc Coro.
Coughlin told councilors that he didn't want to pursue the Nashua judgeship, however. Though Wheeler said Monday he thought Coughlin might reconsider, he later received a letter from Coughlin confirming his preference to stick with the Derry job, Wheeler said Tuesday.
Coughlin could not be reached for comment.
A Mont Vernon lawyer, Coughlin served briefly as Hillsborough county attorney before being called up for duty in Iraq with the Army National Guard.
Both Coro and Coughlin are friends of Wheeler, and Wheeler strongly backed both candidates.
the job, which has been vacant since July 2003.
"There's plenty of time to make another nomination if he chooses to, but I haven't heard that he has or hasn't," Wheeler said.
A member of the governor's staff, Michael Skelton, said Tuesday it's too soon to say whether Benson will nominate anyone next week.
"Nominations usually don't take shape until a day or two before the Executive Council meeting," he said.
Benson also had nominated Auburn District Court Judge Gary LaFrancois as an alternative to Coughlin in Derry District Court, but Coughlin's decision will make that move moot as well.