Nobel winner fights against indifference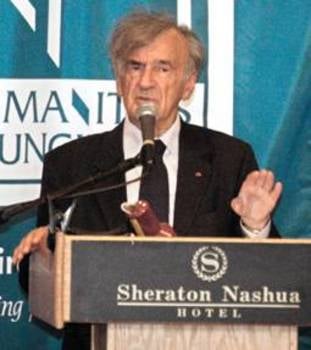 NASHUA – John Feick's father was an army medical officer who helped liberate the Nazi concentration camps in 1945. Fifty-nine years later he will still only say one thing about the horrors he saw.
"No one can tell stories of those times without remembering the smell," John Feick said his father used to tell him.
For John Feick and his wife, Gayle, both 69, those few words were enough to spark a lifelong interest in the Holocaust. They have read the history books, visited the Holocaust museum and, on Monday, they got the chance to hear a survivor speak.
The Feicks were among the more than 600 people who attended the New Hampshire Humanities Council annual dinner to listen to Elie Wiesel talk about his experiences. However, the Holocaust survivor, acclaimed author and Nobel Peace Prize winner said very little about his own suffering.
He talked about eliminating the suffering of others.
"You must raise your voice when an injustice is being done anywhere. Not to do so would surely make you one of the accomplices," Wiesel said.
Wiesel talked about historic tragedies quisition, saying madness has erupted several times throughout history. He made reference to the Holocaust as one of these tragedies, but never said the word.
Wiesel told the audience that after an eruption of madness, victims become what they do because of what has happened. He said he and his fellow survivors had a choice in 1945 either to say they paid their dues and don't owe anyone anything or to work against suffering of all kinds.
"The cruelty of the cruel will not make me choose his way of dominating, conquering, dehumanizing someone else's mind, someone else's soul, just to feel superior," Wiesel said.
Wiesel urged the audience to reach out to the oppressed all over the world to let them know they're not alone. As little as sending a postcard to acknowledge a prisoner of war's suffering is doing something to help, he said.
Wiesel said people and political leaders must take a close look at what is going on in the world today. He described the horrors of the AIDS epidemic in Africa and the beheadings of innocent people by terrorists. He said because people have so many things that solicit their attention, they have become indifferent.
"I've been fighting that indifference as a disease," Wiesel said.
Wiesel offered education as the solution to indifference, saying the key is to create an environment where oppressive and dehumanizing behavior are not accepted.
Jack Resch, chairman of the board of directors for the NHHC, said he thought Wiesel's speech was powerful and moving.
"That sense he conveys about having to make moral changes reminds us that we've got a responsibility," Resch said.
Resch said it was inspiring to hear someone such as Wiesel, who had been through such a tragedy, to encourage people to reach out to the oppressed.
Resch also said he appreciated that Weisel taught the audience how to apply what he learned from suffering, rather than simply providing a history lesson.
"The experience of the Holocaust has been incorporated into his philosophy of dealing with current problems," Resch said. "The audience connected much more because of that."