Nice guys can last on New Hampshire radio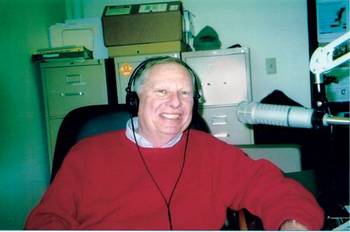 One subspecies or another of the genus woodpecker is bound to be on an endangered species list, but radio fans in southern New Hampshire know that Robert "Woody" Woodland, introduced to Nashua listeners each morning with a bit of laughter from the famous animated Woody Woodpecker cartoon, is not likely to become extinct anytime soon.
The amiable talk show host with the relentlessly self-deprecating sense of humor notes that worshippers at the New Boston Community Church are also apt to marvel at his staying power.
"The previous pastor had been removed," said Woodland, an ordained Presbyterian minister. "I was supposed to fill in for two weeks. Twenty-five years later, people are still wondering why I'm not gone."
Perhaps his longevity as pastor and his success as an early-morning talk show host are somehow related. Woodland's is the kind of personality that is not likely to overwhelm an audience, but it wears well. He can be opinionated, and he does not shrink from controversial issues, but the in-your-face confrontational style is not the Woodland approach. If he disagrees with a guest or caller, he is apt to probe further to find the root of the disagreement or perhaps find some common ground. "Well, what do you think about …?"
His program, airing weekdays from 7 to 9 a.m., is on WSMN, 1590 AM in Nashua and is not heard very far outside the city limits. But it has gotten the attention of New Hampshire's broadcast industry. "The Woody Woodland Show" was recently named New Hampshire's best talk show by the New Hampshire Association of Broadcasters. It won out over a dozen other entries in the radio talk show category in a contest judged by out-of-state broadcast consultants, said NHAB president Al Sprague of BGG Advertising in Manchester.
"He's the greatest straight man in radio," said Sprague, who co-hosted a radio show with Woodland years ago and will be a regular on the current show every Wednesday, starting Dec. 13. "He's got the greatest laugh in radio. He makes an idiot like me sound funny. That was the whole premise of our show. I said outrageous things, and he laughed."
Woodland took a circuitous route to his careers as broadcaster and minister. Born in Washington, D.C., he moved with his family to Long Island, New York, at age 3. His first interest in politics may have been sparked by his father's work. The elder Woodland was a bookkeeper employed by the Carnegie Endowment for International Peace, where he developed a friendship with a pivotal figure in the history of the Cold War.
Alger Hiss was at the Carnegie Endowment when he came under investigation by the House Committee on Un-American Activities, whose members included a doggedly determined young lawyer from California named Richard Nixon. Hiss was later convicted for perjury for denying that during his previous employment in high government positions, he had transferred secret documents to Whittaker Chambers, then a member of the Communist Party. Hiss went to prison, though he and many of his friends, Howard Woodland included, continued to proclaim his innocence long after his release.
"That's probably why I got an interview with him years later," Woodland said, recalling his father's friendship and undying admiration for the man who had once been a trusted adviser to Franklin Roosevelt. "I used my father's name."
Still, he was surprised almost to the point of disbelief when he came home one day from broadcasting a Pinkerton Academy football game and his wife said, "Alger Hiss called."
'15 minutes of fame'
Both by luck and by enterprising print and broadcast journalism, Woodland has had a number of close brushes with the famous and even the infamous. Growing up in Garden City, he went to the same high school as Susan Lucci, the famous soap opera star. "She was a year behind me in high school," said Woodland, a 1963 graduate. "That was my claim to fame."
Home from college at Miami of Ohio, where he majored in radio and television journalism, Woodland managed to get an hour-long audience with Howard Cosell through a friend who worked at ABC Radio in New York. The last thing he remembers Cosell saying were the famous broadcaster's words to his receptionist on his way out the door. "If anyone calls, tell them Howard Cosell is having lunch with Commissioner of Baseball Ford Frick."
"I wished I could have gone along," Woodland recalls, and not just because he would have liked to meet the baseball commissioner. "I was getting kind of hungry," he said.
He soon after transferred to Boston University, where he changed his major to history. By that time he had more than an inkling that he wanted to go into the ministry.
"I was advised not to make religious studies my major because if I did go into the seminary, I would have to take the same courses over again," he said. He did enroll in a seminary after graduation and also married the former Barbara Reinhardt, whom he had met in his schoolboy days at a summer camp in New Hampshire. Her later employment in Boston had more than a little to do with his decision to transfer to BU.
He entered Andover-Newton Theological School and later became a minister at the First Presbyterian Church in Meadeville, Pa., north of Pittsburgh. He began doing some high school and Allegheny College basketball games on the radio as well.
"I had always dreamed of doing a game on radio and when I had a chance to do a game, I went to New Castle to broadcast a Meadeville High game." He assumed it would be his only time on the radio, his personal "15 minutes of fame." He could hardly wait to get home to ask his wife how he had done. "She said, 'Oh, I forgot to listen,'" he recalls with his trademark laugh.
The Woodlands moved to New Hampshire in 1979, when Barbara enrolled in an intern program for dietitians in Boston. While Barbara commuted from Merrimack, Woody looked for a local radio gig.
"There weren't any Presbyterian churches that needed a full-time minister," he said. In the early 1980s, he did a sports talk show on WOTW in Nashua, sharing the microphone for a time with legendary Boston Celtics broadcaster Johnny Most. He also demonstrated an enthusiasm for recycled lost causes when he went to work in 1983 for the long-shot presidential primary campaign of former U.S Senator George McGovern of South Dakota, the Democratic nominee in 1972 who carried only Massachusetts against a 49-state landslide for Richard Nixon.
His broadcast career in New Hampshire has included sportscasting on WDER in Derry and a couple of stints as talk show host on WGIR in Manchester.
The state's leadoff primary every four years has brought a number of leading figures to his microphone including the late President Ronald Reagan. Woodland has found his personal tastes don't always coincide with his political leanings. A moderate to liberal Democrat until the Clinton scandals drove him to the ranks of the unaffiliated, he has had some of his most enjoyable interviews with Pat Buchanan, the fiery right-wing columnist, commentator and winner of the 1996 Republican presidential primary in New Hampshire.
It is not all fun and games, however. Woodland, 61, is working two part-time jobs, while he and his wife raise two grandchildren in rural New Boston. He is not thinking of retiring anytime soon. A ready and engaging conversationalist, he plans to go on preaching from the pulpit and talking on the radio for quite a while.
"I hope so," he said. "I've got to get my granddaughter though college."