NHTI isn't playing games with newest degree program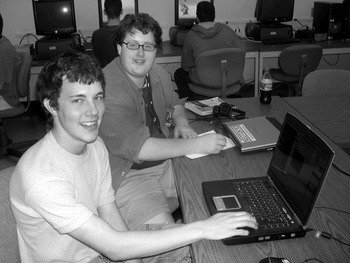 New Hampshire Technical Institute Professor Terry Simkin had been planning to retire in May. But over two years ago he began preparing a new NHTI degree program offering an associate in science in Animation and Graphic Game Programming, and the program was approved in January.
Since its launch, the degree program has been an immediate hit with students, with more than 30 of them enrolled in the degree.
Most of the students are traditional, generally right out of high school, but several are non-traditional, older students.  Currently there is only one woman enrolled in the program.
"They are very, very excited … their eyes were sparkling," said Simkin about the first couple of weeks of classes.  Now, he adds, they're having to adjust to the fact that "playing games is not the same as making games. But it is the most fun you can have doing homework."
In August, at the same time, Simkin was talking with prospective students and promoting the program, he was invited to attend Microsoft's annual Gamefest in Seattle.  He came home with Microsoft's commitment to provide the software development tools to create a computer lab that has the environment to develop games for the Microsoft Xbox 360, a leading game platform that is competing with Sony's PlayStation and Nintendo's GameCube.
Simkin says that Xbox 360 has a powerful platform and an open technology allowing a wide range of game developers to build games for the Xbox 360.  This new technology is called XNA Game Studio.  The grant to purchase Xbox 360 systems for a computer lab has been approved and the systems should be arriving soon.
The agreement makes NHTI one of the first 10 colleges in the world to make commitments to provide Xbox 360 console programming development in its curriculum and lab. 
Among the other colleges offering a similar program are Georgia Tech, University of Southern California and the Rochester Institute of Technology.
"To say that we're one of the initial 10 colleges in the world doing this is a big statement for NHTI," says Simkin.
NHTI and the other colleges will work with Microsoft to more fully develop the new technology.  But more than that, says Simkin, "This will make our students extremely employable, and because we're a two-year college, our students are likely to hit the job market before those coming out of four-year colleges."
As for retirement, he says that's put off, with his wife's blessing, at least until he sees the first class of AGGP majors walk up the ramp and claim their Associate in Science degrees in May 2008.