NH's transportation plan fails to meet all needs
Increase in 'poor' roads, Red List bridges expected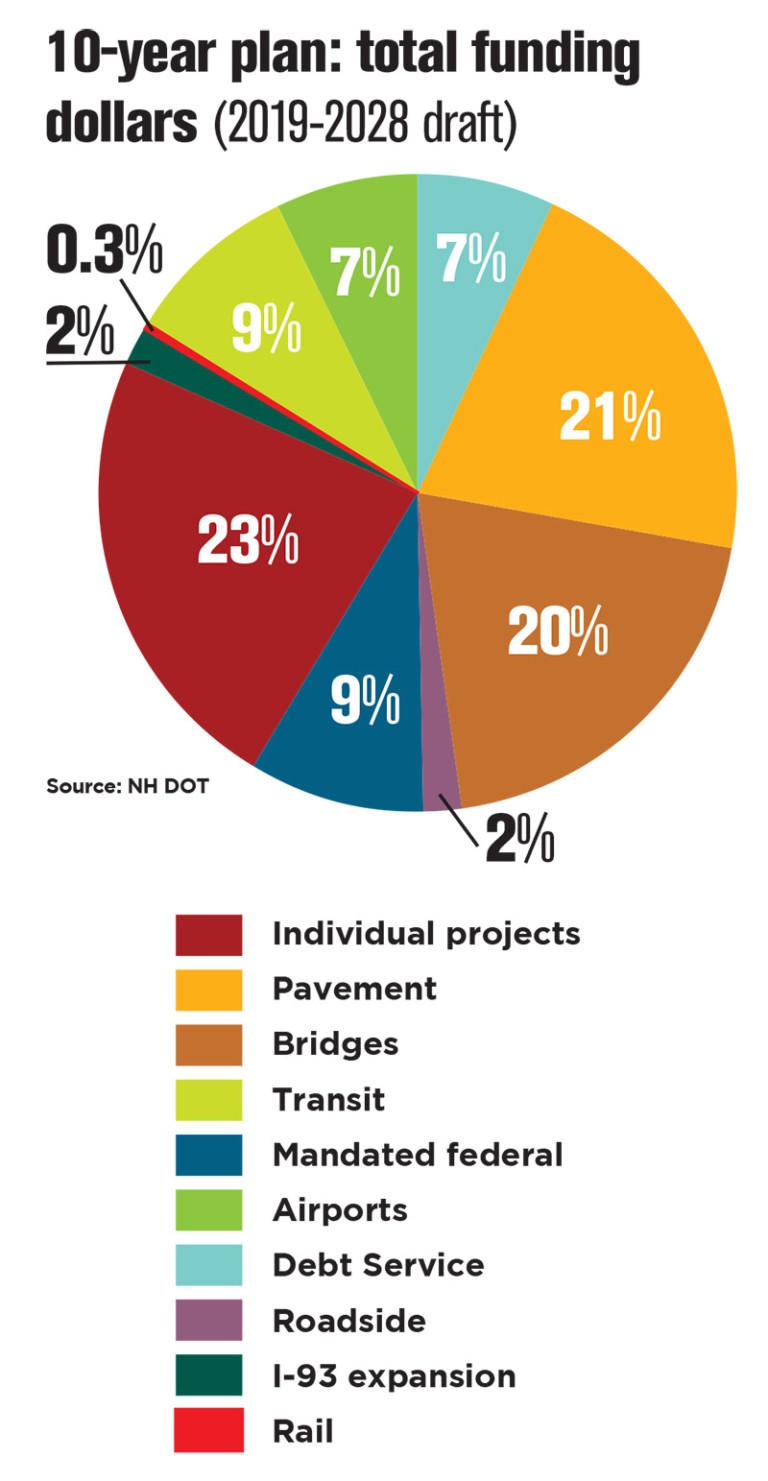 Increasing the number of miles of roads in good condition and shrinking the number of bridges in poor condition are the top priorities of the state's 10-Year Transportation Improvement Plan for 2019 to 2028. But, the plan projects that, for want of sufficient funding, there actually will be fewer miles of sound roadway and more structurally deficient bridges in 2028 than there are now.
"We're losing ground," said Peter Stamnas, director of project development at the NH Department of Transportation, who, with Deputy Commissioner Chris Waszczuk, presented the plan to the House Public Works and Highways Committee in January. "This plan is fully financially constrained," Waszczuk told the committee.
Between 2000 and 2014, the portion of the 4,903 miles of state roads rated "good" or "fair" declined from 81.6 percent to 67.9 percent. Only in 2010, when the American Recovery and Reinvestment Act provided additional federal funding, were more than 500 miles of state roads resurfaced, representing a total deficit of 1,582 miles.
State roads are divided among four tiers or categories. Tier 1 includes 617 miles of interstate and divided highways as well as the turnpike system, all of which are in good or fair condition, according to NHDOT. Tier 2 consists of 1,382 miles of statewide corridors carrying traffic between regions and to bordering states, of which 87 percent are in good or fair condition. More than a third of the 1,433 miles of regional corridors linking municipalities within regions in Tier 3 are in poor or very poor condition. And 55 percent of the 847 miles of secondary highways and unnumbered state roads in Tier 4 are in "poor" or "very poor" condition.
The share of good and fair roads rose to 71.5 percent in 2016 and is projected to climb to 76 percent in 2017, 2018 and 2019. However, the portion of good and fair roads is projected to drop to 73 percent in 2020 and shrink to 66 percent by 2023, and linger there until 2028.
Red List bridges
The plan proposes applying $775 million, or 21 percent of all expenditures, to the pavement preservation and maintenance program, which, at about $78 million a year, is enough to address 450 miles of roadway a year. The program seeks to "keep good roads good" by applying low-cost treatments relatively frequently to sustain surfaces in good or fair condition and forestall deterioration requiring expensive rehabilitation or reconstruction projects.
NHDOT estimates the pavement preservation and maintenance program requires an additional $12 million a year in order to keep 76 percent of state roads in good or fair condition. And with another $12 million, the mileage in good and fair condition could be marginally increased by rehabilitating 1 percent of poor and very poor statewide corridors, regional corridors, secondary highways and unnumbered state roads each year.
The number of structurally deficient state bridges has risen during six of the past seven years. Some 22 bridges have been added to the Red List while 21 were removed each year for the past five years. The Red List now numbers 140, or 6.5 percent, of all state bridges, 62 of them on interstate, turnpikes, divided highways and major corridors. In addition, 254 municipal bridges are in poor condition.
NH DOT calculates that another $54 million per year is required to sustain the share of state roads in good and fair condition at 76 percent and reduce the number of bridges in poor condition.
There were 300 bridges in fair condition in 2017 compared to 254 in 2010, and the plan projects that by 2028 the Red List will include 159 bridges, with 242 added and 223 removed from the list during the life of the plan.
The plan designates $763 million, or $76 million per year, for bridge work. Together with projects undertaken in the previous 10-year plan, NHDOT expects to address 135 of the 140 bridges currently on the Red List by 2028. Altogether, 79 bridges, 61 of them on the Red List, are slated for rehabilitation or replacement and 39 bridges on the list are scheduled for maintenance.
But an additional $6 million per year applied to preserving bridges would limit the number added to the Red List. And another $24 million per year would be required to address the eight bridges NHDOT anticipates will be listed each year, effectively reducing the Red List by 80 bridges over the decade.
In other words, NHDOT calculates that another $54 million per year is required to sustain the share of state roads in good and fair condition at 76 percent and reduce the number of bridges in poor condition. The plan projects average annual investment in improvements to roads and bridges of $252 million, compared to $270 million in the current plan.
'A big hole'
Federal dollars, projected to amount to $183 million per year, represent virtually three-quarters of the funding for road and bridge work, with a state match providing the balance.
However, Stamnas cautioned that there are risks that federal funding could be reduced by $42 million in 2020 followed by cuts of as much as 40 percent, or $73 million, in each of the remaining years. That would trim federal funding to $110 million.
"Obviously cuts like that would blow a big hole in the plan," he said, "and require a reordering of priorities."
Gov. Chris Sununu put his stamp on the 10-year plan. He shed his skepticism of commuter rail that highlighted his campaign, added a study representing the first step in seeking funding for the project. And he scuttled a proposed toll increase designed to accelerate and finance improvements to the turnpike system.
The Capitol Corridor Study, a $4 million undertaking funded by the Fixing America's Surface Transportation Act, lends momentum to the development of rail service between Boston and Nashua, Manchester and Concord. The study would include enough engineering to support completion of an environmental assessment of the project along with the development of a cost estimate and financial plan.
This phase requires approval of the Federal Transportation Administration to qualify for the Capital Investment Grant Program, which distributes $2.3 billion a year through 2020 for rail and bus rapid transit projects.
With the increased tolls, generating $36 million per year, and a $50 million bond, three major capital projects on the Everett Turnpike from Nashua to Concord would have been accelerated. The widening of the highway between Nashua and Bedford from two to three lanes, anticipated to begin in 2022 and completed in 2026, would have begun in 2020 and been completed by 2023. The widening of I-293 in Manchester, along with the reconstruction of Exits 6 and 7, scheduled to be completed by 2029, would have been done by 2025.
Widening the highway between Bow and Concord by adding a third lane in both directions and reconstructing five interchanges, slated to begin in 2025 and open in 2033, would have begun in 2022 and been complete by 2027. Moreover, the proposal included extending the turnpike northward from Exit 14 in Concord, where it connects with I-393, to Exit 15 in East Concord to include the northbound and southbound bridges carrying the highway over the Merrimack River. Extending the turnpike would make nearly $180 million in federal funds available in future years for use across the state while immediately NHDOT could apply $32 million, currently earmarked for rehabilitating the bridges, to 11 of those Red List bridges that keep on growing.