NH's first eight-passenger gondola planned at Bretton Woods
Ski resort outlines plans at Bethlehem Planning Board meeting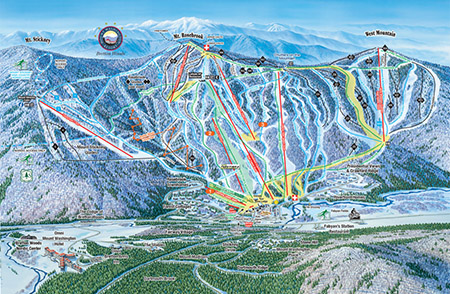 The Bretton Woods ski resort plans to build the state's first eight-passenger gondola and a new mountaintop restaurant that could host meetings and weddings.
Chris Ellms, the resort's director of ski operations, told the Bethlehem Planning Board on Dec. 13 that the resort wants to attract more customers during the off-season as well as get skiers up the mountain more quickly and provide them with a new facility offering meals and restrooms.
The goal is to have the gondola operating by next winter, with the new building opening in the summer of 2019, he said.
Officials say the building will be tucked just below the ridgeline and will use heavy timber and stone to fit into the landscape.
There will be 36 cabins on the gondola, each capable of carrying eight passengers, Ellms said. It will take about five minutes to cover about 6,000 feet from near the main lodge to what is now the top of the Fabyan's Express Triple chairlift.
The only other ski gondola in the state is a four-passenger model at Loon, although Cannon Mountain operates an 80-passenger cable car.
Ellms said the building will be two stories involving about 11,000 square feet and "consisting of heavy timber, stone, fitting into that environment."
Ellms said the gondola will allow diners, people attending meetings and wedding parties to reach the facility regardless of the weather.
The draft plan shows 149 seats for dining on the first level, 106 on the second level and about 30 seats for private dining.
Being able to draw customers during the off-season has become an important strategy for all ski resorts, said Jessyca Keeler, executive director of Ski NH, a statewide trade association. But the investment also shows the health of the state's ski economy, she said.
Ellms estimated the cost of the gondola and building at about $15 million, adding that the plan and finances are still being worked out.
The project also needs some state permits.
The ski area and the nearby Mount Washington hotel are owned by Omni Hotels & Resorts.