NHHTC Entrepreneur of Year finalists named
Howard Brodsky, Patrick Sullivan and Marjorie and Stephen Thorpe vie for annual award at June 7 event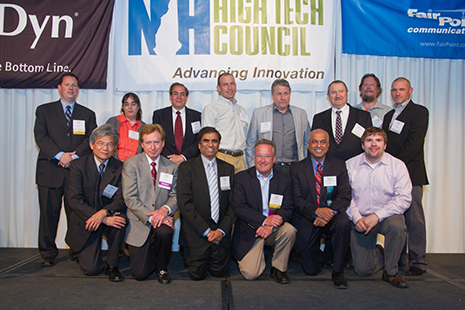 Four New Hampshire entrepreneurs have been selected as finalists for the NH High Tech Council's Entrepreneur of the Year award, which will be presented on Tuesday, June 7 at Southern NH University.
The finalists are Howard Brodsky, CEO of CCA Global Partners of Manchester; Patrick Sullivan, president of Game Creek Video LLC of Hudson, and Marjorie and Stephen Thorpe, president and vice president of finance, respectively, of Adaptive Communications LLC of Portsmouth.
The winner will be announced at the Council's annual Entrepreneur of the Year event, which begins at 5:30 p.m. on Tuesday, June 7, at Southern New Hampshire University 2500 N. River Road, Hooksett.
"The contributions that these individuals make to New Hampshire's technology and business community pave the way for future innovation," said Executive Director Matt Cookson. "Each has uniquely disrupted his or her industry, while setting the example for future entrepreneurs that with hard work, determination and drive, anything is possible."
Howard Brodsky is co-founder, chairman, and co-CEO of Manchester-based CCA Global Partners, one of the largest privately held companies in the United States and the second-largest private company in New Hampshire.
Brodsky, along with the founding team, created a cooperative retail powerhouse in the marketplace; the company is now composed of 13 affiliated companies with aggregated sales of more than $10 billion a year.
A pioneer of the cooperative business model, Brodsky dedicated his career to helping entrepreneurs build successful businesses by providing the scale, resources and innovation that they needed to compete in an evolving marketplace.
Patrick Sullivan launched Game Creek Video in 1993 with a degree from Boston College, two mobile television production trucks and six employees. A former ball boy, stadium manager and New England Patriots' general manager for seven years, he is now president of the industry's leading mobile high-definition TV production services company. He helped the Hudson-based company launch the world's first large-scale IP-based routing system in a remote production facility in 2015.
Sullivan's thriving business sets industry standards and now includes of a fleet of 35 trucks, a team of more than 100 employees, and a presence at virtually every major televised sports and political event in America.
Adaptive Communications is a reseller, designer and installer of enterprise networking, information security and data storage solutions on the East Coast. The company, which was founded in 1997 and has 53 employees, earned the Raymond J. Bourque Hall of Fame Award.
Marjorie Thorpe, who manages the company's operations, was named as New Hampshire Business Review's 2104 Financial Executive of the Year and has served on the advisory board of Securematics.
Prior to founding Adaptive, Stephen Thorpe served as one of the first 35 employees at Cabletron Systems, and helped grow Peripheral Innovations into one of the region's largest technology resellers, and Bay Networks.
The 2016 Entrepreneur of the Year major sponsors are: Dyn; FairPoint Communications; Nanocomp Technologies; Autodesk; Baker Newman Noyes; Brady Sullivan Properties; Cook, Little, Rosenblatt & Manson; People's United Bank; Newforma; Hypertherm; TD Bank, UNH Manchester; and media sponsor NH Business Review.
Tickets to the event are available at nhhtc.org.