NHCTC-Laconia to launch first culinary arts program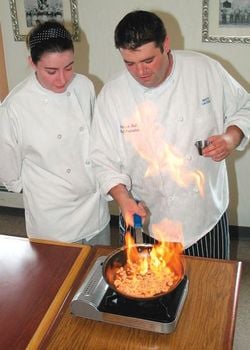 For the first time in the school's 40-year history, a culinary arts program will be offered this fall at New Hampshire Community Technical College-Laconia.
"Long known as a center for restaurant management and lodging and conference management, NHCTC-Laconia faculty and staff are excited to offer culinary arts," said the college's hospitality programs coordinator, Patrick Hall, himself a Johnson & Wales University culinary arts graduate. "There is a huge need in the Lakes Region for people in the culinary field due to the number of restaurants, resorts, and top-notch high school culinary programs."
According to Hall, "culinary is one of the top five industries in the country today. Employment opportunities for graduates are extremely sound. The business is evolving, and we'll meet the industry's demands well."
Having operated NHCTC-Laconia's Food for Thought Café for the past three years, Hall has spent the past 15 years in the hospitality industry, running restaurants in such hotels as The Westin in Providence, R.I., and the Cheeca Lodge Resort in the Florida Keys. He also became a restaurateur with his wife, April Hall, building from scratch a 70-seat fine dining restaurant that was profitable in the first year and increased sales volume and profitability for the following seven years before the business was sold in 2005.
NHCTC-Laconia's Hospitality Club has also been successful. The club acts as a student-run catering business, putting on functions for such high-profile events as a New Hampshire Automobile Dealers Association get-together for hundreds of legislators, executive councilors and the governor. Proceeds from the catering business are used to fund the Annual Hospitality Club's Bermuda cruise.
"The Bermuda cruise is an excellent opportunity for students to experience first-hand the highest level of quality and service as customers," says Hall. "A chef colleague of mine at the five-star Southampton Princess also gives my students an opportunity to get a behind-the-scenes look at the hotel industry, including tours of the Southampton Princess facilities and grounds."
The program almost immediately got its first student — Whitney Amero of Franklin, a restaurant management student at NHCTC-Laconia for the past year who has chosen to seek dual majors. 
She said she's excited to specialize in Culinary Arts, having also completed the Baking and Pastry Certificate Program at the school. "Culinary is more of what I want to do," said Amero. "I like cooking a lot; I like it better than telling people how to run something."
"College personnel have received numerous letters of support from secondary culinary program instructors throughout central New Hampshire," said Hall. "Their desire for additional training to be available for students who continue has made the approval process move much faster." 
Students are now being accepted for fall 2007 classes beginning Sept. 4.