NHBR roundtable: How's business in Nashua?
Area businesspeople assess the state of city's economy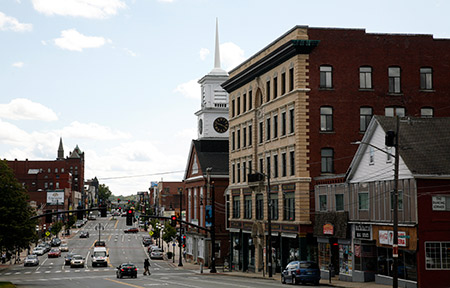 NH Business Review recently met with businesspeople at the Greater Nashua Chamber of Commerce offices to get their take on the issues facing the area and its economy.
The participants were:
• Tim Cummings, director of economic development, city of Nashua
• MaryBeth Gustitus, operating partner, Keller Williams Realty
• James Gallagher, senior vice president/senior commercial loan officer, Merrimack County Savings Bank
• Tracy S. Hatch, president and CEO, Greater Nashua Chamber of Commerce
• Lucille Jordan, president, Nashua Community College
• Arthur Sullivan, co-owner, Brady Sullivan Properties.
NHBR: What is your general feeling about where the economic and business climate is today in Nashua?
Arthur Sullivan: We're doing the residential mill conversion on Franklin Street; they'll end up being 200 units. It's kind of like Manchester. I look at Nashua as being really at a tipping point. We're thrilled to be here. Typically on the higher-end scale are the people who have the ability to own a house, but they choose to live in a high-scale apartment in the downtown area, which for many years we could never have. It was more of a Class-C environment. Now it's a Class-A environment.
Tim Cummings: I think the observation of the tipping point is a great one, and I think it speaks true to Nashua. Nashua was fortunate quite a few years ago, and then it hit a bit of a lull, and now it's starting to bounce back a little bit. I think we're lagging a little bit compared to some of the other areas of the state, but we've positioned ourselves for success, and I think we're making some strategic investments, whether it's the performing arts center or the Broad Street Parkway, or focusing on doing market-rate housing in the airport area.
Hopefully that will be the right catalyst to tip us in the right direction.
From left: Tim Cummings, Nashua's director of economic development, and Arthur Sullivan, co-owner of Brady Sullivan Properties.
PHOTO BY Karen Bachelder
MaryBeth Gustitus: I agree with what both of you were saying. Nashua is sort of evolving, and I feel like we need to change it a little bit. From a housing perspective, we know there two very distinct, yet very large, markets. We have what the governor calls the "silver tsunami" and then we have the millennial market, and the millennial market really wants that high-end home, but they don't really want to own. So I feel Nashua has a lot to offer, but we don't have a lot of new opportunity in terms of land; we're sort of built out. It's making the most of these spaces and these opportunities that are coming into our city — more buildings and repurposing. I also feel that we desperately need more diversity.
James Gallagher: From the banking perspective, what we see from our clients right now is that they're doing very well. Developers are doing well. The biggest problem I think that they face, and the biggest decision I think they face right now — whether it's manufacturing, retail or development — is labor. Finding the right people to put up scaffolding, to pour cement, to put machine parts together, and the turnover can be tremendous. The other issue is the pay rate for the labor. How do I put more money into people's pockets in order to be able to afford the current housing situation? Developers are building some product that you hope that, at some point, the rents sort of slow a little bit until the wages kind of catch up. That's the big economic issue.
Lucille Jordan: I agree — I do think it's at a tipping point. And having been here as long as I have, I can see all the changes that have occurred. I do think that we need to build the performing arts center. It's key to keep young people here, because I see them leaving. We have lots of students who would love to stay here, but select not to.
I also see, from a business point of view, the ability to attract businesses here. You have to have higher education. So I think we had a dip when Daniel Webster College closed, but Rivier College and our college are working to position ourselves to better respond. We work very closely with businesses, but when a business looks at a city, it wants to know where they're going to get workers from.
So the next piece to that is, how are we going to address our growing immigrant and Latino populations and keep them involved and make them very much a part of this community?
Tracy Hatch: We do spend a lot time talking about retaining high school and college kids, but as a parent of three kids who all left the area, their primary reason was they wanted to see more of the country; they wanted to experience a larger community than they're going to get in New Hampshire. And quite honestly, I'm OK with that. I want them to come back. They're not in a position at 23 or 25 or 26, necessarily, to look at buying a house or even moving into that higher-level, market-rate apartment. So, to me, let them go, make sure they understand what's here, which may come through apprenticeships and other connections with higher education.
But what are we doing to attract people who have grown up in New Hampshire back in? That 30-to-40-year-old demographic that often brings the higher skills in, that businesses are actually looking for. It's great to have a 22-year-old, but if I had a choice between a 22-year-old and a 35-year-old with the level of experience they bring, quite honestly, that 35-year-old is probably more valuable to me as a business owner.
Tracy Hatch, president and CEO of the Greater Nashua Chamber.
PHOTO BY KAREN BACHELDER
The other thing I think about a lot is how we phrase what we talk about. We talk about young professionals and we talk about older workers. Right there, we're prejudicing at how people look at the workforce available to us. We act as though people who are doing career transition or in their 30s and 40s, maybe their early fifties, looking for their second career or are being shifted out of one career to another don't have value to our employers. I think we're leaving a lot on the table if we don't talk about that.
I also think, we can't talk about "issue, problem, issue, problem, issue, problem." It's an opportunity. Let's stop painting the picture as doom and gloom — "we don't have enough employees," "we don't have enough this." What's our opportunity? As a business community and as a chamber, we need to focus on them. What's the opportunity we have in front of us that people can get actively engaged in and enthusiastic about?
NHBR: Does everyone else see it as an opportunity right now?
Sullivan: Certainly, I see a lot of jobs, very good, positive jobs coming into Nashua. There are maybe 500 jobs that Raytheon is bringing on. We have a couple hundred thousand square feet of commercial space besides the (Franklin Street) mill building, so it's great to see companies expanding and coming more into Nashua. That's a great opportunity. It's very positive.
The other thing is that, you've got to take one thing and own it. When you get something done, it builds momentum, and then other things get done.
Gustitus: I feel like part of the issue to attract people to Nashua is that they have nowhere to live. And so, for us, we have many people that are forced to migrate to other areas — Hudson, Amherst, Milford — because there is usually no inventory here in Nashua.
We're in 1.9 months supply of inventory. Last year at this time, we were sitting on 2.7 months. The year before we were at 3.8 months. So we're sitting on a very tight supply of real estate for them to even come to town.
I feel like part of the reason is there's a forced bottleneck of people being able to move into affordable housing because the people that are in affordable housing can't move up because there's nothing there.
That market is owned by the silver tsunami market. They have nowhere to go. Their options in Nashua are limited, and I think Nashua's done some things that have limited their options, starting with some of the requirements the city has.
Hatch: We do hear that it's difficult to get projects done sometimes in Nashua. Whether that's [because] the requirements are different for the planning board and the zoning board — that to me is an actionable thing that the business community can take on to try and influence.
Sullivan: It's so huge the opportunities we have here. When housing in Boston has gotten to the point of being $4,000, $5,000 a month for an apartment, and we have very phenomenal space over here for half that amount — those folks will probably end up driving up here to Nashua. The closer you are to the border, the more possibilities there are for them.
But sometimes we come in and do these projects, and these are big undertakings, and there's not always a sense of urgency from the local government. Like right now, we go for a building permit and we go in for an application and you won't get a response for three weeks. I'm not sure this is their standard way of doing business but, for us, sometimes we have a tenant in an office space who says, "We need to be in there in 30 days." So we contact the mayor's office — it's fantastic how accessible he is — we need that sense of urgency, we need them to move things along. That's all a part of getting properties and developments through the process.
NHBR: What do you envision in terms of making the downtown a really robust place, things that are game-changers?
Cummings: I think the performing arts center is one. It's probably the 500-pound gorilla that could act as an anchor to our downtown and then be an economic catalyst with a spinoff effect for some of the smaller merchants, businesses and restaurants.
I think ultimately creating a true live, work, play type of environment, so downtown doesn't shut down after traditional business hours. A lot of people feel unsafe when a street gets quiet. If you remember what it was like to walk in downtown Boston in Post Office Square or State Street on a weekend. Now it's completely different. Why? It's because there are people out on the street. If you do something on a smaller scale here, it creates a whole new vibrancy and a whole new life.
Also, thinking that your downtown has a commercial development that needs to be properly managed, having something that's well-maintained and clean. They understand that they need to attract people into these areas. You need to be convenient, you need to be clean. We, as a municipality, need to adopt some of those processes, and we will see the trajectory of the downtown continue to increase.
Hatch: Tim and I are on the exact same wavelength about downtown. We need to encourage the downtown businesses to remain open — the restaurants and the retail operations, anything arts-related. Right now, they're also closing their doors at 5 o'clock.
James Gallagher, senior vice president/senior commercial loan officer at Merrimack County Savings Bank.
PHOTO BY KAREN BACHELDER
Something that I think both Concord and Manchester do well, and I'm not sure why Nashua doesn't do it as much, but their downtown is more than one street wide. Ours is very much Main Street and does not extend beyond Main Street one or two blocks out on either side, the way that both Concord and Manchester do. Maybe there's more of a residential mix around Main Street than there is around those other communities, but I think, in order to get that kind of volume, we need to look at ways of defining our downtown as more than Library Hill, City Hall, Main Street, because there are some great restaurants that are just off that.
Gallagher: Merrimack County Savings Bank has a large presence in Concord, and one of the things I've noticed is Concord's huge public investment in the downtown. That investment started this whole capital reinvestment, on the private side, into downtown.
Jordan: It's not just Main Street. I see the changes where my college is located. What we've done at the college has made a dramatic change in not only our enrollment but how people perceive us. I can remember when I first came, we had 450 students. We have 3,000 now. We only had one building, and I said, "We need a library." We had a classroom for a library, and we built the Walter R. Peterson Library. After that, everyone thought, "Things can happen." We then put in a student wellness center, a gymnasium, a dining hall, we added on automotive. Because everybody got behind that library, it started to change how everyone viewed themselves and the college.
Then I look at Enterprise Bank coming in and that has dramatically changed Amherst Street. And I think it's starting to change a little bit more now that Whole Foods is in this area. But we still have to do something for downtown to attract the millennial group. And I hear it from my students: they'll go to Boston or up to Manchester rather than staying here for their nightlife.
Gustitus: Try to get on Main Street the night after Thanksgiving, when all the college kids come home. You drive by Martha's [Exchange], and you can't get in; there's all these college kids. But once they're gone, we sort of go back to sleep. I do think the other quarters have great value in terms of convenience and accessibility, but I just don't think it's going to attract people who want the lifestyle of "let me get on my bike, let me walk, let me not have to get in my car."
Cummings: In terms of what Marybeth just said, that's absolutely true in terms of today's Amherst Street, today's Daniel Webster, but 20 to 30 years from now, they're going to look at those corridors completely differently.
A good example of that is Trafalgar Square. The way it's laid out, that has ripe potential if you introduced housing into that area. The multifamily housing in Trafalgar Square will absolutely be a catalyst for a brand new neighborhood for this city. You have the hotel, you have the office, the restaurants, it's right off Amherst Street, and it's beautifully laid out. If you were to introduce that, you'd suddenly have a walkable environment in a contained community right off of Amherst Street. Thinking differently in those terms, you're going to continue to see this city grow and move forward.
Sullivan: We have a lifestyle center right here in downtown, we just have to make the most of it. It's just waiting to be developed. The difference with Manchester is Manchester has around 900 units downtown. That was a game-changer; commerce filled out. There's no reason why the same thing can't happen down here if we all work together to try and make that happen and encourage reuse of all these buildings. Sometimes these older buildings can be readapted with additions that make sense so you can put another floor in some of these buildings. There's a lot of different ways to make these buildings work and be able to handle more capacity that we don't necessarily see sometimes.
NHBR: What about passenger rail?
Cummings: Without, question, it's a game-changer. There have been some developments with the governor making comments about an openness to see an incremental, first-step type of approach with something possibly happening in Nashua. The mayor here wanted to make it an economic development priority and has started having conversations of laying the groundwork for that type of development.
We were approached by a private sector entity called the Boston Surface Railroad Company that is seeking to connect Concord, Bedford and Nashua into Lowell and then do a cross-platform connection onto an MBTA train, and then have passengers continue on down into Boston or continue on through Worcester and then down into Rhode Island, into Providence, most likely.
I just want to clarify that there is no current quote, unquote plan in place. What we currently did, as a city, is the cities of Worcester, Mass., Lowell, Mass., Nashua and Woonsocket in Rhode Island all signed an MOU agreeing to work to build the plan together, and if that plan is satisfactory to all of us, we will then, with the support of the Boston Surface Railroad Company, put forward a federal loan application to finance the project.
If everyone agrees and we were able to build out this plan and get the application submitted, the timeline we've been talking is something like three years. Really what's driving it is a private-sector solution. It's going to be a market-based business model, so it will be one or two trains in the morning, one or two trains in the afternoon. They set the price; there will be no subsidy from local municipalities. They're doing this with the understanding it will incentivize development in our area. So it will be interesting to see how it comes together.
Hatch: From students being able to access the colleges and universities in Nashua, to millennials not only coming in from communities within New Hampshire but also coming up from Massachusetts, I think that addresses some of the workforce issues we were talking about.
There are things that a community like Boston offers. Access to it that means that somebody's not going to move down to the greater Boston suburbs — they're going to be able to stay up here and enjoy the quality of life that we have up here, shop locally and dine locally and rent locally or buy locally, and still have access to those other amenities of the big city without having to actually move there, and I think that's a benefit.
Cummings: I keep a very close eye on what's happening in Massachusetts along the Route 128, Route 3 corridor because it does affect us so much. We need to continue, for our own economic health, embrace that because that is a huge economic engine just south of us. To that point, 128 being full is good because that's progression, and we will see the spinoff of that, or they'll come up Route 3 and cross the border in Nashua. But we also have to make sure we have the right policies in place to do that, and some of the larger tenants can't find the office space that's necessary along the 128 belt or along the Route 3 belt.
A good example is Kronos in Chelmsford — 450,000-ish square feet, moved to Lowell. I don't know if they ever looked at Nashua, and if they didn't, why not? Those are the kinds of questions we should be asking, as we need to be competitive.
We also need to think about things a little bit differently. There was this — at one time — New Hampshire advantage, if you will, that was touted, and that was very much when corporations and businesses looked at the balance sheet in real estate and thought of it in a certain way and wanted to keep it as cheap as possible. But I talk to more businesses and business leaders in different industries, and they would rather pay a premium to get productivity every day of the week because their labor is so much more valuable to them; real estate is a rounding error on their balance sheet. So for us to be competitive, we need to start looking in a different type of lens in that type of way, so that we are an option.
Mary Beth Gustitus, operating partner at Keller Williams Realty.
PHOTO BY KAREN BACHELDER
It's about being a place where people want to live — retention of the employees you spend so much time attracting and training that the last thing you want to do is lose them. What is it that's happening down there so we can continue to have a built environment that will attract that type of talent?
Gustitus: I think we know what they value today. We've done so much research on millennials, and we know this demographic does not value bricks and mortar and land and live the same way that our grandparents did. They want to live in a very diverse, convenient, eco-friendly, green way. But they want it right this minute, so I think those communities where they can get a bite to eat, get their dry cleaning, have their social time, get on a bike if they want, have walking trails — they want everything at their fingertips; that's what they're used to. To have to drive to Amherst Street or South Nashua, just forget it.
Hatch: I think, to an extent — I'm going to use the term "we" very, very broadly, whether it's city, whether it's city leaders, elected, business leaders — I don't think we consciously think about what the gaps are and how to fill them and actively recruit. I think we've traditionally taken a more passive approach. I also think there's, to a degree, some misunderstanding in the general public talking about what they would like to see.
I think at one of the public hearings for the performing arts center, someone said, "We don't want more restaurants coming downtown; that would hurt the restaurants we've already got," which is untrue. You want more, you want that. We don't think about actively recruiting what we'd like to see.
I'd love to see a restaurant on a rooftop; rooftop dining. I have no idea why there isn't one, if it's a zoning issue or the fact you have to close for certain months out of the year. That would be awesome. I'd love to see a good, rich bookstore come downtown. I'd like to see some more unique, ethnic restaurants.
Gustitus: Even a unique coffee shop. I think more of that kind of thing where people can hang out on their break, do their work, especially if they're living downtown or even those working from home. Boutique hotels. Even if you just have great retail.
Hatch: And there are some really good ones, but they're not open past six o'clock; they're closed at 6:30, and I understand from their perspective that they're not getting a customer in the door between six and 8; it's just overhead. There used to be, on Thursday nights everything stayed open until 8. When was the last time you saw everything open until 8 on Thursday night? Maybe that was the wrong night and they needed it to be a different night.
NHBR: How did it get to the point where Nashua's all buttoned-up?
Hatch: It was never a formal thing to stay open; it's just kind of what everyone did. We didn't even plan events on Thursday nights because we knew our business owner members couldn't come because they were at their place of business. So when the economy took a downturn it didn't make sense to stay open as late; they just haven't flipped it back.
Gustitus: I was driving down Main Street and I mean no disrespect, but I thought, "Does this really belong on Main Street? Could this be better served as something else where it would be a better experience?" I guess one tattoo parlor might be good. Three? I don't think so. Are the tenants fitting that kind of downtown experience that we're looking for? Is it the right mix of what someone might get when they walk down Main Street?
Sullivan: As a developer, we're always looking for the best synergy between tenants, because that's how we maintain tenancy. So if we put a growing tenant in one open space, the chances of a vacant space next to it is higher. So we're always looking at that. It's very, very important.
Lucille Jordan, president of Nashua Community College.
PHOTO BY KAREN BACHELDER
Cummings: You have hit on two very unique issues that are sometimes a detriment to a downtown and the leading reason why lifestyle and power centers are doing very well.
The mixture of tenants is very, very important, and if you're one developer, one retail, one real estate entity, and you have a few different storefronts, you have a vested interest in making sure you have a diversified market. But when you're a single investor, you have one building and 10 different business owners owning a building and trying to rent it out, they don't all have the same business plan. They don't all look at it the same way. That's part of the reason retailers have started to gravitate towards those lifestyle and power centers.
There's actually an understanding if you're going to open up a certain shop in a certain area, your shop will be open for standard hours. There are just no ifs, ands or buts about that. Trying to bring that mentality to independent businesses is hard.
To your point, what can we do? I think it's us collaborating together, and we have a lunch-and-learn type session, having the discussion. At the end of the day, it might not bear much fruit, but I think just starting to bring some of those issues forward, and being sensitive to the fact that the market's the market. It's very hard to tell a landowner to turn away a business. But if we can try to find out what their needs are, and so I can probably help bring some tools to the table if it is a buildout that needs assistance because that single investor doesn't have the capital to put into making a storefront turnkey. Well then, let's do that because, otherwise, you're not going to get the rising tides of land owners.
Sullivan: I don't want to sound like a broken record, but there are at least 300 people living downtown. If someone doesn't take advantage of that down here, they're going to be fools.
Cummings: Retail always follows rooftops without question.
NHBR: Through this conversation, there seems to be some frustration with where things are right now in Nashua, but there's also opportunity and prospects for the city. Mention one or two things you think that, in the next five years, are really, really essential.
Sullivan: The more housing, the better.
Cummings: Rail.
Gustitus: Address the senior housing; the senior needs. In the next five years, one out of three households will be senior.
Gallagher: I would say connecting the corridors; finding a way to connect Amherst Street, downtown, Spit Brook Road, the DW Highway. And one thing we didn't really talk about is having an education component downtown.
Jordan: Possibly. But I would agree that rail is key.
Hatch: I'm going to say the performing arts center because I think it's the spark that downtown needs, but above and beyond that, a group of business and community leaders — representing not just today, but what we know the diversity will look like in 10 or 20 years — coming together to put together a common vision that we are all working towards.
Maybe this conversation serves as the catalyst to bring together the voices that we need around the table to say, "Here are the gaps — whether it's higher education in downtown or it's financing, real estate for millennials, rail — that we understand [them] and what we can each do to make those things happen.
Jordan: We need that one thing, and we all need to work on is that one thing.