NHBR About Town: Citizens Bank New Hampshire & WMUR-TV
New Hampshire Preservation Alliance wins the 2012 Champion in Action Award.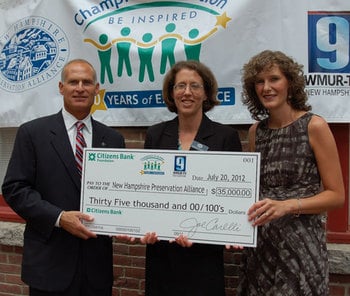 Citizens Bank New Hampshire and WMUR-TV have named New Hampshire Preservation Alliance as their second 2012 Champion in Action in the category of neighborhood development. The nonprofit — which works with communities and property owners to restore historic landmarks — will receive a $35,000 grant from the Citizens Bank Foundation, media coverage from WMUR-TV, and extensive promotional and volunteer support from Citizens and WMUR-TV over the next six months. From left at the presentation are Joe Carelli, New Hampshire president of the bank; Jennifer Goodman, executive director of the alliance; and Sherry Nannis, WMUR-TV digital sales manager.