NHBR About Town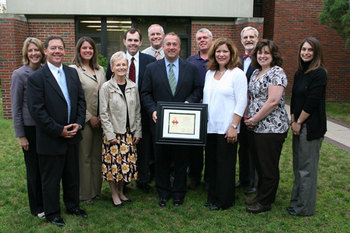 A ceremony was held last month to present the city of Concord with the Health Innovator Award, a partnership of Harvard Pilgrim Health Care and NHBR that recognizes innovative and sustained efforts in bringing wellness programs to the workplace. On hand were members of the city's Health Benefits Review Team and city officials, who accepted the award from Beth Roberts, vice president of northern New England for Harvard Pilgrim Health Care, and Sharron McCarthy, publisher of NHBR. Pictured at the ceremony are, front row, from left: Jim Tollner of Harvard Pilgrim; Jackie Whatmough, Concord's human services director; Mayor James Bouley; McCarthy; Robin Wirbal, the city's human resources coordinator; and Amanda Moore, HR program administrator. Back row, from left: Roberts; Jamie Beland of Harvard Pilgrim; city prosecutor Scott Murray; Police Chief Bob Barry; Jeff Killam, International Association of Fire Fighters representative; and Phil Bilodeau, deputy general services director.
More photos from recent events around the Granite State.
Submit items for About Town to editor@nhbr.com. Please include a color photo and a brief description.