NHBR About Town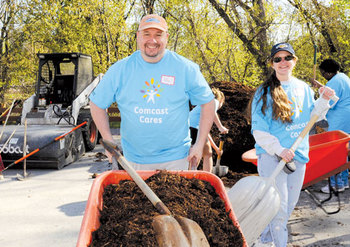 Rock Roberge, left, and his wife Kristen Roberge spent the ninth annual Comcast Cares Day at Families In Transition in Manchester where employees landscaped and painted four floors of the complex as part of the company's day of community service. Local Comcast employees and their family members and friends also worked at the Manchester Animal Shelter and at the Webster House.
More pictures from recent events around the Granite State.
Submit items for About Town to editor@nhbr.com. Please include a color photo and a brief description.