NH Women's Foundation honors advocates at GAL/A
Martha Fuller and Geoffrey Clark recognized for dedication to women and girls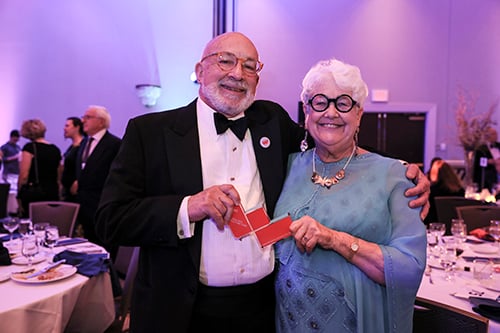 NH Sen. Martha Fuller Clark, D-Portsmouth, and her husband, Dr. Geoffrey Clark, were honored May 10 by the NH Women's Foundation for their longtime dedication and commitment to women and girls in New Hampshire.
The foundation presented the couple with the AmplifiHER Award as part of its annual GAL/A, citing their more than 40 years of "dedicating their personal and professional lives to strengthening New Hampshire communities."
Fuller Clark has been an elected official in New Hampshire for more than 20 years and Clark. a gastroenterologist by training, is a pharmaceutical entrepreneur. Both have been highly active in the community, serving on the boards of several local and state organizations since they were married in 1971. Fuller Clark is vice chair of the Women's Foundation.
Also at the GAL/A, the foundation recognized three trailblazing New Hampshire women. The women, who shared with the audience their experiences of leadership and advocacy, were: Nashua resident Viola Katusiime of the Granite State Organizing Project; NH Rep. Gerri Cannon, D-Somersworth, one of the Granite State's first two transgender legislators; and Dudley Dudley of Durham, the first woman elected to the Executive Council. Each
spoke of their shared spirit of equality and justice and passion for positive change.