NH State Police order 150 smart tasers
Arizona manufacturer says it has received multiple orders from law enforcement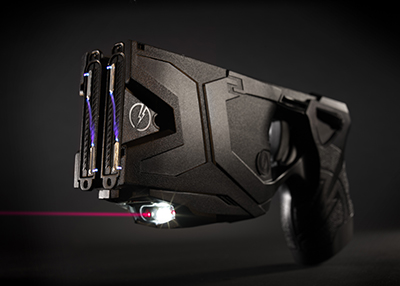 New Hampshire State Police have ordered 150 smart tasers from Axon, an Arizona-based developer of public safety technology.
Axon announced in a press release on Feb. 15 that it received multiple orders for its Taser X26P and Taser X2 smart weapons in the fourth quarter of 2017 and the first quarter of 2018. Orders are expected to be shipped by the end of the first quarter 2018.
New Hampshire State Police are purchasing the Taser X26P, new holsters, cartridges and training cartridges to replace the outgoing X26 model that Axon is no longer servicing, said State Police Captain Paul Hardcastle.
While the Taser X26P can be connected wirelessly to police communications to alert in real-time when an officer has activated a taser to produce warning signals, Hardcastle said State Police would instead download information later from the device to collect time and duration of use.
The taser and its accessories are the only products the State Police have purchased from Axon, which is one of the major taser suppliers, said Hardcastle.
Axon also offers body-worn and in-car cameras to collect video evidence, a mobile app to enable simple evidence collection and a signal for when guns are removed from their holsters, among other products connected to its smart network.
Beyond in-the-field applications, Axon sells products that aim to improve police reporting and assist prosecutors in collaborating across jurisdictions and agencies so that cases can be resolved quick and efficiently.
This story has been updated to include comments from the New Hampshire State Police.