NH Startup Challenge ready to kick off Feb. 24
$70,000 in cash and prizes up for grabs in 9th annual contest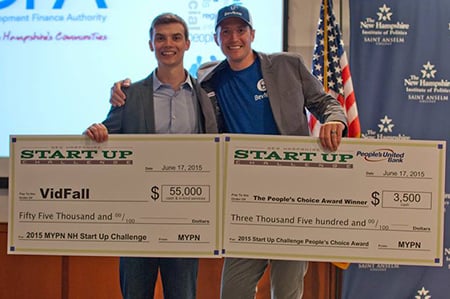 The Manchester Young Professionals Network's will be kicking off its ninth annual NH Startup Challenge, a chance for Granite State startups to compete for up to
$70,000 in cash and in-kind services. Start date is Feb. 24.
Since its inception, the Startup Challenge has awarded $500,000 to startups and has connected entrepreneurs and social innovators with seed capital and key services.
Any New Hampshire resident with an idea can apply. Startups must be for-profit, have been in existence for less than three years, have raised under $100,000 in funding and generated under $100,000 in 2015 revenue.
In order to qualify, contestants must email a completed application form (available for download at mypn.org), with optional link to a video pitch, to startup@mypn.org by March 18.
A panel of judges, including venture capitalists, investment bankers and technology experts, will select a group of five to seven semifinalists to pitch their ideas on April 5 at Alpha Loft in Manchester.
Three finalists will be chosen to hone their business plans, with the assistance of mentors from Alpha Loft to help navigate a competitive review process and prepare for a closed presentation before judges on April 25.
The competition will culminate with a final live pitch event on May 11, when finalists will deliver one last pitch and the audience will have the opportunity to select the $5,000 People's Choice Award.
The first-place winner will receive; $55,000 in cash and in-kind services (cash portion up to $20,000); legal services, accounting services and marketing services from various Manchester area businesses; and a one-year residency at Alpha Loft.
The second-place finisher will receive a minimum of $5,000 to $10,000 in cash.
The People's Choice Award winner will receive up to $5,000 in cash.
For more information, visit mypn.org.