NH residential sales, inventory fall in July
Realtors report first decrease in sales since February 2015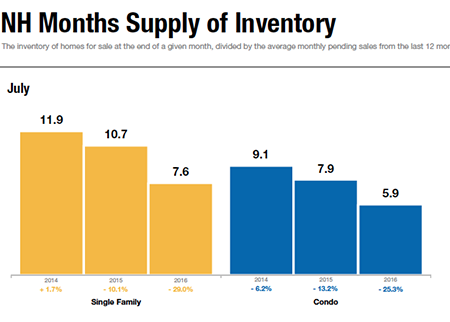 Year-over-year sales of single-family homes in New Hampshire fell in July as median prices continued to rise, according to the NH Association of Realtors.
While it was the first drop in sales since February 2015, the statistics do raise some concerns about the residential market in New Hampshire, as inventory continues to fall.
The Realtors reported that single-family home sales in July totaled 1,810 – 5.6 percent below the 1,917 sales recorded in July 2015. For the same period, the median sales price rose 1.2 percent, from $252,000 to $255,000. Sales volume also fell by 6.8 percent to $539.3 million.
The drop in sales was even more pronounced on the condo market. According to the Realtors, July sales totaled 388, 22.4 percent fewer than the 500 sales recorded a year earlier. The median sales price, however, fell 1.5 percent, from $183,238 to $180,500. Sales volume was 19.8 percent lower, to $83.1 million.
Meanwhile, months supply of single-family homes fell 29 percent, to 7.6 months. For condos, the monthly inventory totaled 5.9 months, a drop of 25.3 months. In addition, there were 10,750 homes for sale in July, 19.8 percent lower than the 13,410 homes for sale a year earlier. On the condo market, there were 2,099 units for sale, 17.1 percent fewer than the 2,531 units for sale a year ago.
Year-to-date, single-family home sales are still up by 12 percent over 2015, and condo sales are up by 7.4 percent.
Nevertheless, the fall in inventory at a time of record-low mortgage rates and a relatively healthy economy is preventing a stronger market from taking shape, according to the Realtors. And if prices continue to rise, that may "put a deeper squeeze on the current buyer pool," they note.
Meanwhile, single-family sales were down in six of the state's 10 counties, with increases seen in Carroll (up 8.2 percent), Cheshire (up 1.9 percent), Merrimack (up 1.8 percent) and Sullivan (up 72.5 percent). Decreases were recorded in Belknap (down 24.3 percent), Coos (down 7.7 percent), Grafton (down 3.6 percent), Hillsborough (down 6.1 percent), Rockingham (down 14.4 percent) and Strafford (down 6.0 percent).