NH Public Works Memorial gains ground
Pike, R&D donations led to completion of walkways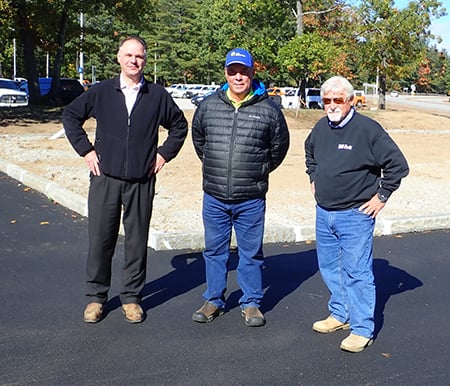 The construction of a NH Public Works Employee Memorial has taken another step forward with the completion of paved walkways at the future memorial site in Concord.
Pike Industries Inc. of Belmont and R&D Paving of Franklin made the installation of the walkways possible with the donations of materials and labor to the project, organizers said. Pike donated approximately 70 tons of crushed stone and 60 tons of asphalt, and employees from R&D Paving applied both the base coat and top coat for the new sidewalks.
"The generous contributions of Pike Industries and R&D Paving have provided a major boost in moving this important project towards completion," says David Rodrigue, NHDOT director of operations and chair of the NH Public Works Employee Memorial Committee. "These and other vital donations will soon make the memorial a reality."
Construction of the new memorial to remember public works employees who have died while serving New Hampshire communities began in July 2018 and is expected to be completed in the spring of 2019. Financial donations are still being sought to complete the memorial and ensure ongoing maintenance.
Contributions can be made to the project's GoFundMe site.