NH Lottery, Home Builders team up on 'tiny house' project
Students from four NH high schools to take part in design, building program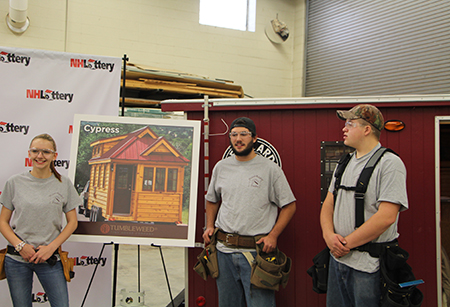 The New Hampshire Lottery and the New Hampshire Home Builders Association have launched Tiny House New Hampshire, a workforce development initiative.
As part of the new initiative, high school students from Career Technical Center construction programs at four schools across the state will design and build "tiny houses," which typically span 100- and 400-square-feet.
Student teams from four New Hampshire high schools will be learning to design and build "tiny houses" as part of new workforce development initiative launched by the NH Lottery and the NH Home Builders Association.
Under the new initiative, unveiled at an Oct. 27 press conference, students from Career Technical Center construction programs at the four schools will design the 100-to-400-square-foot houses.
In partnering with NHHBA, the Lottery contributed custom trailers for transporting the houses. The student-built homes will be displayed during the 50th New Hampshire State Home Show March 17-19, 2017. Four of the five homes will be raffled or auctioned during the Home Show, with proceeds benefiting the participating schools and NHHBA.
To help drive awareness and interest in this new program, the New Hampshire Lottery is also launching a new scratch ticket game, "Tiny House Big Money," and the top second-chance prize will be one of the student-built tiny houses. Tiny House Big Money, which features a $10,000 grand prize, will launch in January.
A total of nearly 100 students will be taking part in the program, which will be offered at Huot Technical Center, is a regional Career Technical Center program for students in the Lakes Region, Kennett High School in North Conway, Alvirne High School in Hudson and the Seacoast School of Technology.
"Building the tiny house will be a great experience for the whole class," said Jamie Sherman, a building trades student at Alvirne High School, one of the participating schools. "Some of us want to go into this field after graduation and others want to have a little bit of background information on construction and carpentry for the future they are going to pursue. Making this tiny house as a class will be great for us to learn team work and what it is like to be in the real world on a job site."
NHHBA expects it to take about 550 hours for students to complete the homes, with a budget of $15,000 to $20,000 for each house. NHHBA is sourcing all materials for the program and is seeking financial and material donations. NHHBA members are serving as mentors to participating students.