NH Liquor Commission honored for warehouse innovation
NHLC, DHL Supply Chain recognized for improvements and upgrades at Bow facility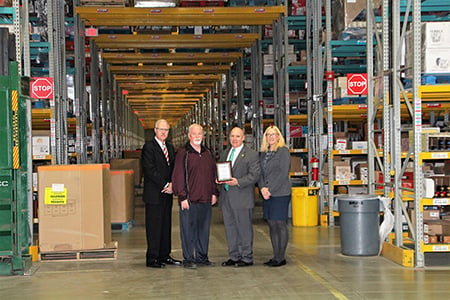 The NH Liquor Commission was recently honored for its partnership with DHL Supply Chain (the former Exel Inc.) in building a state-of-the-art, 243,000-square-foot warehouse as Best Warehouse Innovation in the 2016 StateWays Control State Best Practices Awards.
The award recognized the NHLC-DHL partnership for increasing productivity, enhancing operations and implementing money-saving processes that have saved more than $7 million and helped NHLC generate a record $678.4 million in total sales last year.
In addition, NHLC received an honorable mention in the Best Retail Innovation category for its NH Liquor & Wine Outlet relocation and renovation program, an initiative that resulted in the opening of seven new or refurbished stores in the past year. Since 2012, NHLC has renovated or relocated 26 stores statewide.
NHLC also received an honorable mention in the Best Technology Innovation category for its in-store information kiosks, which allow customers to digitally browse the most up-to-date product information and availability, along with information on upcoming promotions, events and job opportunities.
NHLC entered into a 20-year contract in 2013 with DHL, which has invested $20 million in the 243,000-square-foot warehouse in Bow.