NH House votes to require court involvement in foreclosure process
Contentious bill survives eight votes before approval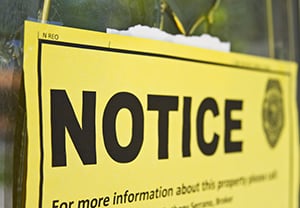 It took eight votes for the New Hampshire House to pass a bill last week that would require lenders take borrowers to court before taking their property.
But if the past is any indication, House Bill 270 still might have an uphill battle to become law. The Democrat- dominated House Judiciary Committee recommended killing it by a 13-5 margin and the Democratic House followed suit on by one vote, until it reconsidered, again and again.
Currently, New Hampshire is one of a handful of states that allow mortgage foreclosure simply by notifying the homeowner, though the borrower could challenge the action in court. HB 270 "changes that burden of proof from the homeowner to the bank," said Rep. David Woodbury, D-New Boston, and prevents a homeowner from being blindsided.
In committee, some supporters pointed to horror stories from the last recession, when homes were sold and shuffled to a variety of real estate trusts and there was little documentation that the entity filing the foreclosure actually owned the home.
But, said Rep. Barbara Griffin, R-Goffstown, "there was no testimony that foreclosures in this state are done improperly,"
If the bill is passed into law, "all future mortgages will cost more money. If you delay foreclosures, it increases costs and that costs gets passed on," warned Rep. John Hunt, R-Rindge.
Hunt said another bill will be coming down the pike that Republicans could support: making sure that homeowners got adequate notice. But that wasn't enough for Democrats.
"If your landlord has to go though the court process to evict you, so should your bank," said Kermit Williams, D- Wilton, who called HB 270 a "reasonable bill."
After the House voted to kill the bill by a 184-183 vote, it voted to reconsider. The bill then survived motions to table it, recommit it, and indefinitely postpone it and to kill it again.
It eventually passed, 208-161, and after a reconsideration motion failed, there was even a motion to consider to reconsider.
And although the measure was referred to the Finance Committee – which would have meant another House vote – the Finance Committee chair waived it, meaning it will now go straight to the Senate.