NH High Tech Council seeks Entrepreneur of the Year applications
Program honors individuals who have made significant contributions to the advancement of technology-based businesses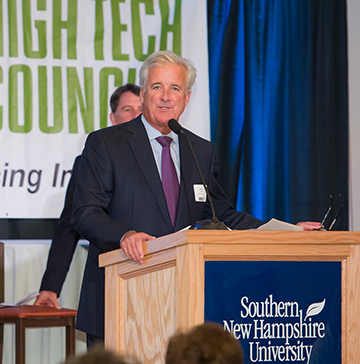 This June, the NH High Tech Council will honor a founder, owner or manager of a New Hampshire business who has successfully organized, developed or managed a technology-based concept into a commercial product or service.
Last year, the Entrepreneur of the Year award was given to Patrick Sullivan, president and co-founder of Game Creek Video, a mobile high-def sporting event video and television production company based in Hudson. Game Creek Video produces major sporting events for networks and organizations across the globe.
"We have been lucky to work with some of the most brilliant and passionate people who have made our company what it is today," Sullivan said as he accepted the award at the celebration held last June. "One of the truly great strokes in my life was the decision to move my business to New Hampshire…I can only hope that the entrepreneurs that follow us will have the same exposure to these great resources, and that the great state of New Hampshire continues to invest in and recognize the value of human capital that is nourished and thrives here."
In its 29th year, the annual Entrepreneur of the Year award attracts more than 300 influential leaders of tech-based companies from across the region and remains a top networking events for those in or interested in New Hampshire's technology sector. The awards program promotes high tech business development and honors New Hampshire's leading technology entrepreneurs by calling attention to their success, and encouraging the formation of the next generation of high technology ventures.
"The recurring theme that we keep hearing when we talk to entrepreneurs – from all phases of the business lifecycle – is that the support and resources available in New Hampshire are second to none," said Matt Cookson, the Council's executive director. "We are honored to play a small part of that."
The application deadline is Friday, April 28. More information about the application requirements can be found here.