NH firms make their mark in pharmaceutical manufacturing
Granite State's supply chain presents at ISPE's Boston Product Show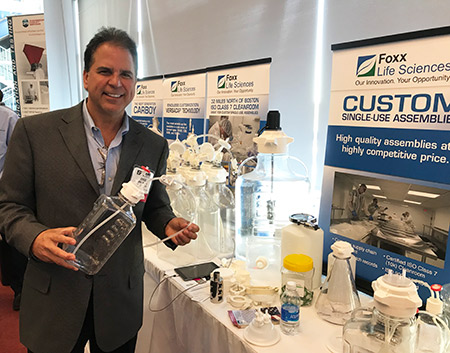 Surveying the Granite State's presence at the International Society for Pharmaceutical Engineering's Oct. 4 Boston Product Show, a visitor could find a New Hampshire company for each step in the pharmaceutical manufacturing supply chain.
There were companies manufacturing and selling valve componentry, pressure and temperature controls and data loggers, as well as providing cleanroom garments and laundering services.
A majority of New Hampshire companies build and maintain process systems — the piping and filtration systems through which product materials flow — in addition to validating process controls and assuring consistent data collection for clients, including Lonza Biologics in Portsmouth and global pharmaceutical names like Pfizer.
But what readily became apparent was the lack of business performed by Granite State firms for other companies in the Granite State.
"We would love it if there were more opportunity in New Hampshire, but I don't know how the state can draw in big biotech. We make our living selling to the big manufacturers," said Bob Casella, president of Casella Process Solutions in Barrington, which supplies sophisticated components and equipment for pharmaceutical applications. "The small R&D labs, they don't typically purchase componentry."
"It's hard to compete with Massachusetts," said Robert Patrick, vice president of engineering at Superior Controls in Salem, a full-service automation and control systems integrator for pharmaceutical and biopharmaceutical projects. "A lot of that comes from the great school systems they have in Boston — all of the universities generate those startup companies."
Hampton-based iPura Consulting Group's President Marco Rotondo and Vice President of Engineering Mark Poulicakos.
Patrick did point to ARMI, the Advanced Regenerative Manufacturing Institute, a new initiative that's just starting in Manchester. "Could that happen in Manchester eventually? Potentially. It looks like they're bringing in a lot of big players, both from industry and then also different universities."
So why are pharmaceutical suppliers — nearly 20 of which NH Business Review interviewed — that mainly service clients in Massachusetts located in New Hampshire?
Most companies' founders have a personal connection to the Granite State or found the "way of life" appealing.
Marco Rotondo — president of iPura Consulting Group, a Hampton-based consulting firm that focuses on process automation, operational excellence and project management — is from New Hampshire, but said the decision to be in the state was more than just a personal one.
Standing next to him, his colleague Mark Poulicakos, vice president of engineering, chimed in that New Hampshire was more business-friendly.
"It feels like less regulation, or at least less pointless regulation," said Poulicakos.
In Massachusetts, he added, "they make it a privilege to work there, whereas New Hampshire is much more welcoming."
"It really is," said Rotondo.
Thomas Taylor, president and CEO of Foxx Life Sciences, an engineering services firm and manufacturer of single-use, disposable process equipment in Salem, is on the board of MassMEDIC (the Massachusetts Medical Device Industry Council) and wants to increase the industry's exposure to Gov. Chris Sununu's office and different groups in New Hampshire that recognize the size of the market, he told NH Business Review.
"The biggest concentration of biotechs in the world is right down the street in Massachusetts. So we need to do a better job of getting more of those companies interested in doing business in New Hampshire for sure," said Taylor.
"I know that Governor Sununu is really pressing to bring a lot of this business into New Hampshire too, as opposed to having people drive to Boston," said Amanda Sobel, an associate at Stratacuity, a life sciences recruitment and staffing firm based in Portsmouth, who thinks the industry will grow significantly in New Hampshire.
Outsourcing growth
According to the most recent annual report by MassBioEd, the biotech industry has expanded by one-third in the past decade, "and the rate of growth has shown no obvious signs of abating."
The report forecasts the addition of approximately 6,000 jobs in biotech R&D in Massachusetts and over 11,000 jobs when also considering pharmaceutical manufacturers and ancillary sectors.
Kristin Dangelo, New England sales manager for contract testing laboratory Boston Analytical in Salem, is finding more pharmaceutical companies are outsourcing testing and analysis.
"I would say we've tripled in size over the past five years," said Dangelo. The company recently expanded its life sciences laboratory in Salem.
Kristin Dangelo, New England sales manager for Boston Analytical in Salem.
"There's a lot of gene therapy, but also microbiome," said Dangelo, when asked about trends. "We're seeing a lot of research and development done on those types of products, which are products that are made out of microorganisms that are found inside your intestines. Believe it or not, you can harvest them and use them in drug products, but also use them as a drug delivery mechanism, so they're attaching a small molecule formulation to it and it will deliver the drug to that target."
She said the companies her firm works with are in phase two of clinical trials.
"There's nothing on the market right now, it's all in R&D, but we've been able to help some of these companies in their analytic operations and getting their products filed, so it's been exciting," she said.
Regulations boost business
Although not a recent trend, New Hampshire suppliers also noted a movement toward single-use processing equipment and continuous processing, as opposed to traditional stainless steel systems and batch processing.
While large pharmaceutical companies are retaining the traditional equipment, since they've already made the investment, other companies have shifted away from stainless steel process systems due to the up-front costs and cleaning requirements between batches, which causes lag time.
Foxx Life Sciences manufactures and sells disposable carboys, flasks, bottles and all of the connections that create a "giant IV set," said Taylor. "We provide disposable products for laboratory biotech, biopharma and medical. We're now heavily into single-use."
Taylor said his company has seen four straight years of more than 40 percent growth, selling mainly to research universities and pharmaceutical and biotech firms in the Boston-Cambridge area, but also to companies in India and China.
UniClean, a national cleanroom services company that launched from its Nashua location, has seen its biotech and pharmaceutical customer base grow as the U.S. Food and Drug Administration becomes more stringent, setting auditing requirements for compounding facilities.
"Pharmaceutical compounding used to not be governed by the FDA," said Anna Sandler, division contracts and purchasing manager for UniClean. "That's changing in the industry. A lot of compounding pharmaceuticals are now affected by the FDA."
An ad for Seabrook-based Superior Controls flashes across the jumbotron at Gillette Stadium during ISPE's Boston Product Show on Oct. 4.
That affects retail pharmacies and their suppliers, which must adhere to cleanroom requirements versus industrial, said Sandler.
"The other industry that is starting to be audited but not necessarily by the FDA is nutraceuticals, and that's vitamins," said Sandler, who pointed to whey protein shakes and other supplements not governed under the FDA, but affected by voluntary monitoring agencies like the U.S. Pharmacopeia, which provides its own USP verified mark for applicable products and is pushing those makers toward a cleanroom environment.
"Those customers have then switched from wearing what would just be a normal lab coat, acceptable to walk around in this environment, to them wearing a cleanroom-type frock, which is specific to being in some ISO classification environment," said Sandler, who said the cleanroom frock is made from an all-poly blend.
One example of a company whose own customer base directed them toward cleanroom services is Somersworth-based contract manufacturer J-Pac Medical, which specializes in the manipulation of rolls and sheets of medical-grade polymers used in permanent medical implants and has expanded its work regarding absorbable implants used in sports medicine.
"There's a good example of a prospect for us," said UniClean Regional Sales Manager Kevin Pillman, who said he has met with J-Pac. "They had their garments industrial-laundered with another supplier, but now it came to be their customers are pushing them into a cleanroom environment, so they have to get away from that industrial mindset and processing to our services."