NH filmmaker commemorates 1973 rock concert
Watkins Glen Summer Jam in upstate New York drew 600,000 people – 100,000 more than the infamous Woodstock in 1969

An estimated 600,000 people attended the 1973 Watkins Glen Summer Jam in New York, and a planned documentary hopes to tell a story that is largely unknown. (Courtesy photo)
No, the biggest outdoor concert ever staged in the U.S. was not Woodstock in 1969, with an attendance of 500,000 people. It was actually another New York venue — four years later, at Watkins Glen, in 1973 — with an attendance of 600,000.
A group that includes a New Hampshire filmmaker is making a documentary — and finding the funding to do it — about the Watkins Glen Summer Jam. They want to give it the historic attention they feel it deserves, not only in terms of attendance but some of the innovations in stage production that came about as a result.
"Everybody we've talked to is very enthusiastic about it," said New Hampshirebased filmmaker Bruce Taylor. "They're saying: This is the forgotten festival."
"Everyone's heard of all the big festivals that were in that era," Taylor said, because they were all filmed and many were the subject of movies.
He referenced the likes of the Woodstock Music and Arts Fair and the Altamont Speedway Free Festival in California in 1969. Approximately 300,000 people attended the Altamont festival, notorious for Hell's Angels security and considerable violence, injury and one stabbing death.
But in the case of Watkins Glen, he said, "not only do we have to appeal to the public for funding, we also have to appeal to the public for: Hey, what do you got? Do you have any film? Do you have any pictures? Do you have anything that will make this film more interesting? And a lot of people are reaching out to us with film and stuff."
A Kickstarter campaign is, thus far, more than halfway to its initial fundraising goal of $64,500 at kickstarter.com/projects/161601661/summer-jam-at-watkinsglen-the-documentary.
The hope, according to producer Art Horan, is to generate enough public interest in the documentary that it piques the interest of investors.
"It's a great way of getting the base involved, getting people behind your project. And it's also a very good way to attract equity investors," said Horan. "Equity investors swim around the Kickstarter projects. On the previous campaigns I've worked on that were successful, we always got solicitation from a number of people saying: 'Hey, are you interested in an equity investment?'"
The Dead, Allman Brothers and The Band
Watkins Glen is at the tip of Seneca Lake, one of the five Finger Lakes in New York state. Then, as now, it was known primarily for its road course race track, Watkins Glen International, host to internationally televised motor car races involving Formula 1, endurance racing sports cars and Nascar, to name a few.
Performers at the summer jam on Saturday, July 28, 1973, were the Grateful Dead, The Allman Brothers Band, and The Band.
For the event's promoters — Jim Koplik and Shelly Finkel — the Summer Jam wasn't their first rodeo, per se. They knew the Grateful Dead, had promoted their shows, boasted they had partied with Dead frontman Jerry Garcia and band members. They floated the idea of an outdoor concert to Dead management, and they settled on the raceway at Watkins Glen, a wide-open venue that wasn't all that far — 250 miles — from New York City.
Tickets were $10, which included the show and a site for camping, and they sold out at 150,000 tickets. But as the concert day approached and people started coming — lots and lots of people, some hik ing to the concert after abandoning their cars mired in traffic — the two promoters decided to remove the gates and just let everyone in who wanted to come in. All 600,000 of them.
There are anecdotes galore that will become part of the full-length documentary. For example:
• Bill Graham and his production company were hired to create the stage and sound system. In the effort to reach a crowd that big, Graham, a legend in the world of rock 'n roll, created a massive wall of speaker arrays set behind the musicians, which they themselves controlled without a front-of-house mixer. This was a precursor to the Dead's famous Wall of Sound.

• To produce this precursor to the Wall of Sound, they needed speakers, lots of speakers. Fortunately, McIntosh Labs, makers of high-end speakers, was located in nearby Rochester, NY. So Koplik procured a helicopter, flew to the Rochester plant and loaded every available speaker that McIntosh had.

• Back in 1973, Coors beer was not sold east of the Mississippi River. Yet, included in the rider for the Dead's concert contract was a requirement for Coors beer backstage. The promoters sent a truck to Colorado (home of Coors), filled it with beer, turned it around, and brought it back to Watkins Glen.

• Given the demographics then, according to the Kickstarter information, if you consider the fact that the vast majority of the crowd were 25 and under and hailed from the Northeast, it's probably true to say that one out of every three people, between 17 and 25 years old, from New York to Boston, was at the show.
'Hippies' greatest ever success'
Filmmaker Taylor didn't have to travel very far from his Alton Bay home to get some stories from Derek Trucks. He is the nephew of the late Butch Trucks, drummer for the Allman Brothers. He became an official member of the Allman Brothers Band in 1999, and in 2010 he formed the Tedeschi Trucks Band with his wife, blues singer/guitarist Susan Tedeschi.
The Tedeschi Trucks Band performed at the Bank of New Hampshire Pavilion in Gilford on July 3; Taylor and a sound engineer caught up with them there.
"He told us some wonderful stories, and I was surprised he knew about them. We had given his manager a rough outline of what we wanted to talk about, but we never went into detail about what that was, and he was just excited to talk with us," said Taylor.
Despite all the concerts he had played, Duane Allman, according to the story Trucks related to Taylor, became a bit nervous with a tinge of stage fright when he saw just how many people had come to the concert.
If there's a sense of urgency to getting this story on the record in the form of a documentary, it can be seen in the passing of its principals over the years.
Duane Allman died in 1971. Jerry Garcia died in 1995. Levon Helm of The Band died in 2012. Robbie Robertson, The Band's guitar player and songwriter, died most recently on Aug. 9.
Sam Cutler, the Grateful Dead's tour manager who gave what would be his final interview before he passed on July 11, said the Summer Jam might have been "the hippies' greatest-ever success."
As a director of photography, Taylor spent many years making films and documentaries for ESPN. While he's been associated with a lot of sports greats over the years, Muhammad Ali among them, he doesn't describe himself as a big sports fan. But he is a rock 'n roll fan.
"Now I'm involved in music and I'm getting around people that I idolized growing up; it's a whole different thing," said Taylor. "Jaimoe from the Allman Brothers, the drummer, he sat down with us for an interview, and he was great."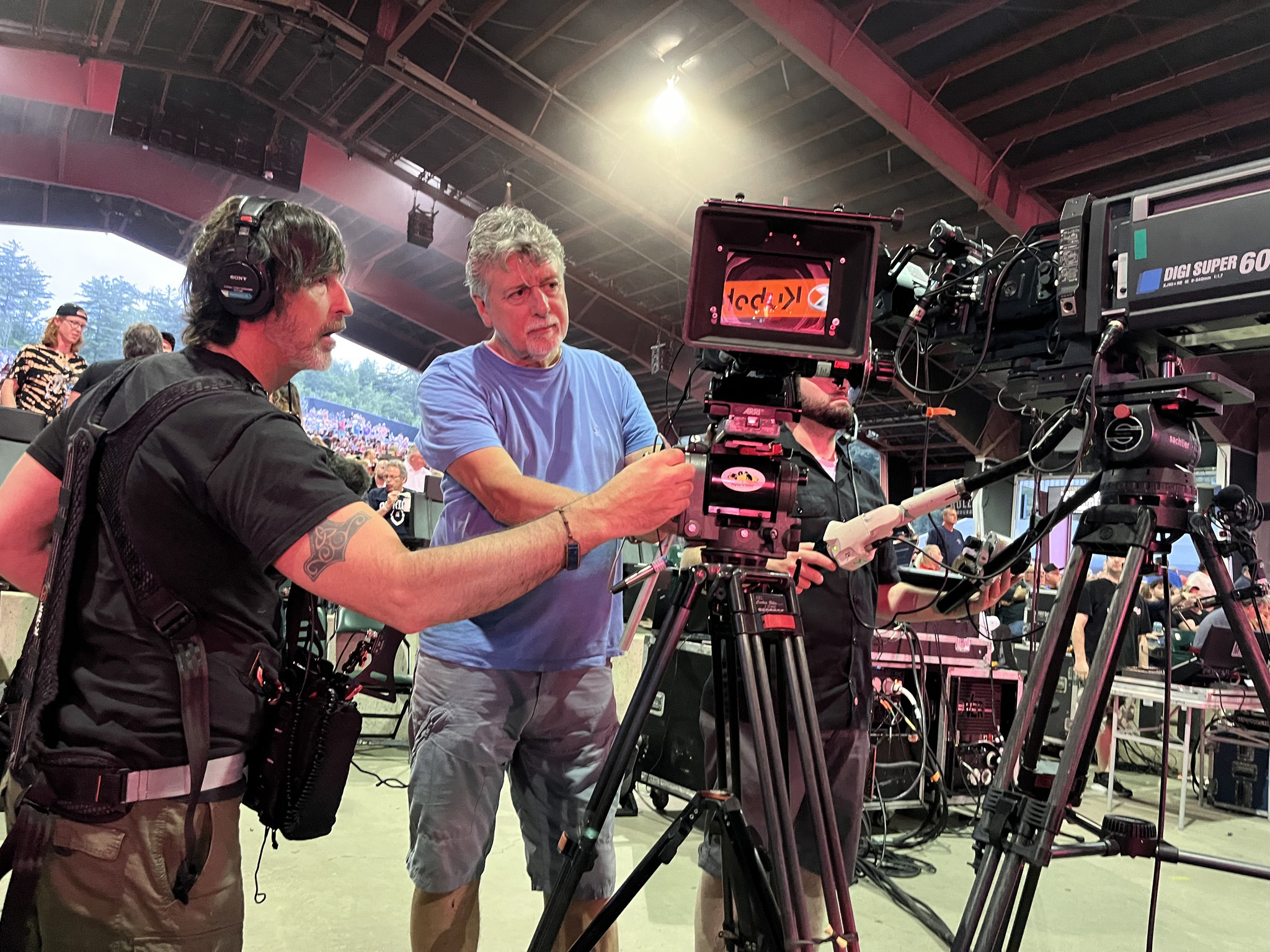 New Hampshire-based director of photography Bruce Taylor, center, and sound engineer Sean Slaughter, left, shown at the Bank of New Hampshire Pavilion in Gilford to interview musician Derek Trucks for a new documentary about the Watkins Glen Summer Jam, the largest concert no one's ever heard of. (Courtesy photo)
"I've never seen that many people," Jaimoe said in an interview that is part of a trailer for the documentary, "and how it just got bigger and bigger and bigger."
As producer, Horan said a big part of his job is finding the money to pay for the filmmakers and sound engineers, and buy the rights to whatever music or film footage or photographs needed to make the documentary.
"The Kickstarter campaign ends Sept. 7, and whatever funds we have from that, we're going to go out and do some more interviews," said Horan. "But we're going to continue to raise money. We're going to need money for music rights. We have to license some of the music that was performed there by both the Allman Brothers and the Grateful Dead. And then we need to raise money to edit the film."