NH commission to weigh turnpike privatization bid
Consortium submits offer to operate system, add commercial rest stops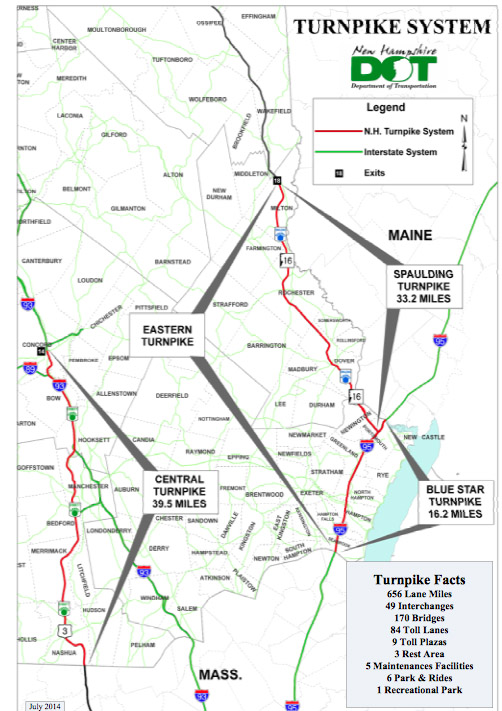 A consortium of firms has proposed privatizing the three legs of the NH Turnpike System and developing and operating service plazas and rest areas with dining, fuel and retail concessions along the three highways.
The proposal was submitted in response to solicitation by the state's Public-Private Partnership Infrastructure Oversight Commission and will be discussed at its Friday meeting.
Lawmakers established the so-called P3 commission to further the notion that "public-private partnerships allow for the sharing of resources of finance, design, build, operate and maintain transportation infrastructure projects and are especially effective when limited financial resources are available."
Andrew J. Warcaba & Associates Inc. of Dixon, Ill., a transportation infrastructure consultancy, presented the proposal on behalf of the John Laing Infrastructure Fund, a closed-end investment firm headquartered in Guernsey, an island in the English Channel, Love's Travel Stops and Country Stores of Oklahoma City and Subcon Inc., a contractor and developer based in Tulsa, Okla.
"Our central thesis," the letter reads, "is that certain governmental assets including rest areas, Welcome Centers, and the Turnpike itself can generate additional revenue for the State of New Hampshire through long-term concession agreements."
Any commercial development would be undertaken at no cost or risk to the state, according to the letter. Commercial rest areas and service plazas could be completed within 18 months of entering a concessions agreement while "large-scale asset acquisition," this is acquiring the turnpikes themselves, would stretch the timeline to 36 months.
The John Laing Infrastructure Investment Fund, founded in 2010, has financed a portfolio of 38 projects in the United Kingdom, Europe and North America with a net asset value of $1.2 billion, including 23 service plazas in Connecticut developed in tandem with Subcon Inc.
The fund has a premium listing on the London Stock Exchange with market capitalization of $1.3 billion. Love's operates more than 440 locations in 41 states, with an emphasis on serving the growing volume of truck traffic.
The turnpike system, which dates to the 1950s, consists of three highways. The 39.5 miles of the Central, or F.E. Everett, Turnpike from Nashua to Concord, opened in 1957 and includes stretches of Interstate 293 and Interstate 93. The 16.2 miles of the Blue Star Turnpike along the Seacoast from the Massachusetts state line to the Maine state line opened in 1950 and includes a section of Interstate 95. And the 33.2 miles of the Spaulding Turnpike opened from the Portsmouth Traffic Circle to Rochester in 1957 and was extended 12 miles to Milton in 1981.
The proposal falls on the heels of Gov. Chris Sununu's decision to scuttle a proposal by the NH Department of Transportation to raise tolls on the turnpikes in order to accelerate completion of improvements to the roads, including widening I-293 through Manchester and I-93 through Bow and Concord.