NH Businesses for Social Responsibility readies 17th Spring Conference
Director of Harvard Center for Health and Global Environment to deliver keynote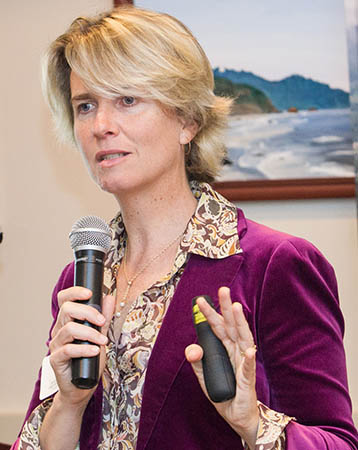 Leith Sharp, director of executive education for sustainability leadership at Harvard University's Center for Health and the Global Environment, will be the keynote speaker at NH Businesses for Social Responsibility's 17th annual Spring Conference.
The conference will be held Wednesday, May 2, at the Grappone Conference Center in Concord.
In her keynote, "Unleashing Flow: The Future of Leadership," Sharp will discuss how to restructure the understanding of leadership and organizational design in order to focus on purpose-driven ideas as well as sustainability, innovation, adaptability and empowerment.
The conference also will feature morning and afternoon breakout sessions, including a CEO panel led by Robert Craven of FoodState and featuring Joe Keefe of Impax Asset Management LLC/Pax World Funds, Mindy Lubber of Ceres, Jesse Laflamme of Pete & Gerry's Organics and Amy LaBelle of LaBelle Winery.
For more information about the conference, contact Michelle Veasey at 603-391-8472 or michelle@NHBSR.org. To register, visit nhbsr.org/conference.