NH Business Review wins best non-daily newspaper award
NH Press Association honors also go to reporting by Bob Sanders, Michael Kitch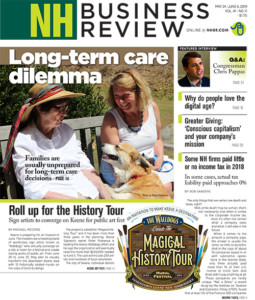 NH Business Review was named the best non-daily newspaper in New Hampshire, taking first place in the General Excellence Category in the New Hampshire Press Association's revived Distinguished Journalism Contest Wednesday night at St. Anselm College in Manchester.
In addition, two writers for the publication received individual honors.
Bob Sanders took two first-place awards, one in the Business Reporting category for his detailed coverage of the demise of Brookstone and the other, for General Reporting, was for his article on white supremacy in New Hampshire. He also took a runner-up award for Health Reporting his article on health cost transparency.
Another runner-up award, in the General Reporting category, went to Michael Kitch for his article, "The Other New Hampshire," an in-depth look at the growing divide between New Hampshire's have and have-not communities.
The Press Association awards were presented for the first tine in four years.