Newforma execs named Entrepreneurs of Year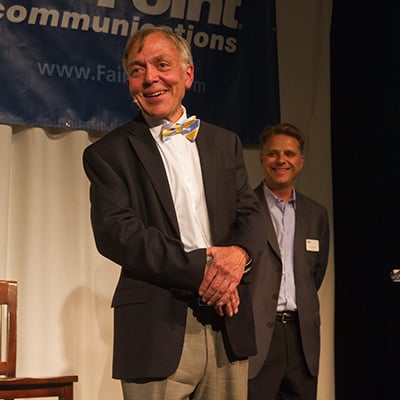 Bob Batcheler, Dave Plunkett and Ian Howell, the three men at the helm of Manchester-based Newforma, have won the 26th annual New Hampshire High Tech Council's Entrepreneur of the Year award.
The leaders at the other two finalist companies, Scribe Software of Manchester and Single Digits of Bedford, were also recognized at the event.
Newforma's project information management software connects architecture, engineering, construction and owner organizations not just to each other, but also to their project information, to their financial and resource data and to remote team members.
Winners of the 2014 New Hampshire High Tech Council Entrepreneur of the Year award are Ian Howell, third from left, Dave Plunkett, third from right, and Bob Batcheler, second from right, the top executives at Manchester-based software maker Newforma. They are shown with Matt Cookson, left, executive director of the council; Paul Mailhot, second from left, chair of the council; and Matt Benson, far right, EOY Committee chair.
Company sales have grown by more than 30 percent year over year for the past three years, and Newforma now employs 185 people, most of whom are based in their Manchester office.
"New Hampshire has provided a rich environment for establishing Newforma as a global software company," said Howell, CEO of the firm. "Our original investor, Borealis Ventures, is located here, and organizations such as the New Hampshire High Tech Council are contributing to a healthy technology ecosystem for companies like ours to continue to grow."
The firm was co-founded by Bob "Batch" Batcheler and Dave Plunkett, executive vice president of development.
Batcheler, who is Newforma's executive vice president of strategy, got his experience working in a variety of roles in sales, product management and special projects at Autodesk and Softdesk.
Plunkett, executive vice president of development, is the founder of CadZooks, which was acquired by Autodesk in 1996.
Howell has served as CEO of Newforma since its inception. He is an architect by training and has practiced professionally as a partner of the Buchon Group. He has also worked in various high-tech company management roles, including Alias Research, BlueLine Online and Autodesk's AEC Market Group.
"There are so many people who have contributed to our success. We would not have been able to be here tonight without them and can't thank them enough," Batcheler said.
The evening also included a keynote address by David Friend, co-founder of Carbonite, and remarks by Gov. Maggie Hassan.
Since its start in 1988, the council has recognized more than 60 New Hampshire entrepreneurs for demonstrating leadership, ingenuity and innovation within the technology sector.
Major sponsors of the 2014 event included FairPoint Communications, Dyn, Nanocomp Technologies, Cook Little Rosenblatt & Manson, Baker Newman Noyes, Dunn Rush & Co, the University of New Hampshire at Manchester and John J. Flatley Co.