New travel plaza planned in Londonderry
I-93 plaza will feature a liquor outlet, diner, convenience store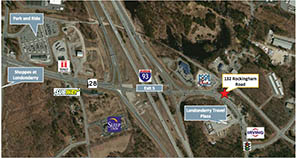 Construction begins this month on a new Londonderry Travel Plaza off Exit 5 of Interstate 93 in Londonderry that will include a 9,000-square-foot NH Liquor & Wine Outlet and a 24-hour Red Arrow diner.
The plaza will also feature a Sunoco travel center with a 3,000-square-foot convenience store, 19 fueling stations including truck diesel fuel, kerosene, truck retail center, and parking for trucks, tour buses and recreational vehicles.
The 3,000-square-foot, 63-seat diner will be the third location for the Red Arrow, which has locations in Manchester and Milford.
Anticipated opening date is the end of 2014.
"The Londonderry Travel Plaza will fully cater to travelers, 24 hours a day, seven days a week," said Floyd Hayes of Concord-based Aranco Oil, which owns and is developing the property. "It was critical for us to complement the Sunoco fuel brand with a signature, specialty retail option and a non-franchised, quality food option. A NH Liquor & Wine Outlet store was specifically and independently identified as the most unique and preferred retail entity for this site."
"We view the Londonderry Travel Plaza site as a tremendous growth opportunity," said Liquor Commission Chair Joseph Mollica, who said that since 2012 the commission has renovated or relocated 15 Liquor & Wine Outlets in the following communities.