New PSNH president brings a different tone to the job
Even opponents say Bill Quinlan is 'a breath of fresh air'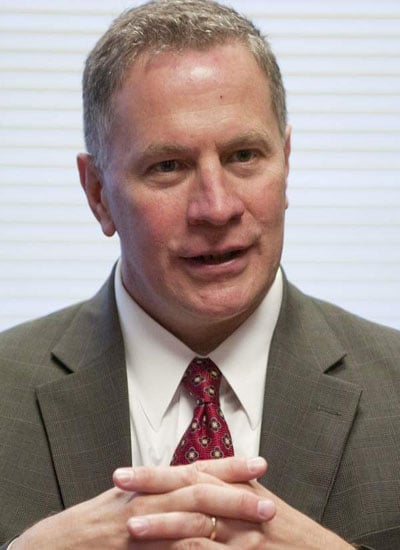 Bill Quinlan, the new president of Public Service of New Hampshire, can foresee the day when the utility is no longer operating generating facilities, including its coal-fired power plant in Bow. But he's also sure the utility and its customers will continue to benefit from the plants for at least a few more years, until the region can get access to Canadian hydroelectric power and an expanded pipeline can transport more reliable amounts of natural gas to customers.
In an interview with NHBR, Quinlan would not – and did not – put it that plainly. He wouldn't tie the region's controversial energy issues together in one sentence to sell his solution to "keep the lights on" during the next few winters when he expects gas and electric prices to skyrocket.
But, in essence, that is what he has been signaling while making the rounds on a self-described "listening tour" around the state – and he's also indicating that the state's largest utility will be more accommodating than in the past.
Quinlan's "tour" comes as New England's elected officials and regulators have stepped up their efforts to promote a plan to get regional electric ratepayers to spend billions of dollars to fund projects to fill in a megawatt gap caused by the retirement of regional fossil fuel plants and exacerbated by the planned shutdown of the Yankee nuclear plant in Vermont.
The multibillion-dollar question, raised by the industry and its watchdogs: Will such projects help New Hampshire ratepayers as well as the state and region in general?
Quinlan says yes. The proposed Northern Pass transmission line in particular is just the "shot in the arm" the state, and the North Country, needs economically, he says, and it is just what the grid needs for reliability and affordability. And he still touts the benefits of PSNH being the only utility in the region to hang on to its generating assets, its aging coal plants in particular.
Quinlan maintains that the plants are a "hedge" against spikes in natural gas prices, arguing that they saved customers $120 million last winter. But he also says that the benefit may be only temporary.
"Right now they are hugely beneficial to customers, and they are going to remain beneficial for the next three to five years, until we build that infrastructure for the future," he told NHBR.
He added that it wasn't even necessary for PSNH to own the plants. "If we were to divest them but have an agreement for the output that we can use to meet the needs of our customers for a period of time, that also works," he said.
"Actions speak louder than words," noted Sen. Jeb Bradley, a longtime legislative point man on utility matters, and at one time a frequent PSNH ally.
Nevertheless, Bradley – who has since taken the utility to task on various issues, most notably Northern Pass – called Quinlan a "breath of fresh air" compared to his predecessor, echoing a sentiment voiced by others.
Attorney Douglas Patch, a former PUC commissioner who now represents competitive supplier TransCanada, said Quinlan brings a "fresh face" to the energy debate.
And Cathy Corkery, chapter director of the New Hampshire Sierra Club, sees a change in approach as well. "For once we get to tell them what our thoughts are," she said of a meeting with Quinlan. "It wasn't a quote from us in the newspaper."
Surprising critics
Such a response might not have been predicted, considering Quinlan's resume.
Quinlan has worked for PSNH's parent company, Northeast Utilities, for three decades, involved with everything from nuclear power, commercial litigation, competitive generation, storm control and as vice president of Connecticut Light and Power, another NU subsidiary. Quinlan moved to New Hampshire last fall (he lives in Merrimack), succeeding Long as PSNH's chief operating officer.
He then surprised the utilities' critics by talking with them and taking a different approach in the Legislature.
For instance, PSNH did not take issue with a bill last session to give the PUC the power to order the company to divest its plants. In the past, the utility would have opposed it, but the company, said Quinlan, made a "conscious shift to be more collaborative."
However, there have been no change in actions on the PUC front, said Patch, as PSNH continues to battle over the issue of whether the company or ratepayers should pay for a $422 million mercury scrubber that has kept the coal plant going.
But Quinlan does seem more willing to bend on Northern Pass.
The utility, which had long fought against burying the line, agreed last summer to build some eight miles of the 187-mile route underground. And maybe it can do more, Quinlan said, pointing to "other critically important areas that we should reconsider, some type of mitigation, whether it is a different design of the towers, whether there is additional burial."
He added, however: "There are limits to how far we can push it before the project falls under its own weight."
Quinlan also restated – more clearly than his predecessors – the importance of PSNH getting a firm guarantee that a portion of the power carried by Northern Pass goes to New Hampshire.
"We represent about 10 percent of the total load of New England, and if we are going to host that project, my own desires is for the bulk of the benefits to be New Hampshire benefits," he said.
But Quinlan could not say what that portion of that power load should be and how much PSNH customers would save.
Energy urgency
Perhaps the biggest new development is Quinlan's linking of the region's biggest energy controversies: Should PSNH continue to operate generating plants and should the region construct a massive natural gas pipeline and new electric transmission lines?
PSNH's coal plants in Bow – known as Merrimack station – as well as its coal plants in Schiller – are on the list of plants "at risk" of being retired in the next five years, according to a presentation by Gordon van Welie, CEO of ISO-New England, at a June 30 conference in Manchester put together by the New England Council Regional Energy Council.
Those "at risk" plants represent 8,000 megawatts of power, of which 3,000 are retiring. This, combined with increased reliance on natural gas – it now accounts for nearly half of the region's energy, as opposed to 15 percent in 2000 – is the major reason for a push by the governors of the six states to propose a gas pipeline from Pennsylvania and a high-power transmission line from Canada.
Because of the growth of fracking, natural gas prices have plummeted in the last decade, and the fuel has been used for heat and electric generation. But in New England, only natural gas distributors have agreed to sign the long-term contracts needed to convince gas suppliers to build extra pipeline capacity. Competitive electric generators have not, since they make more money purchasing leftover gas on the spot market.
But on cold days, leftoversare scarce, and last winter there were a lot of cold days.
"Last winter was really hairy," said van Welie.
This not only put ISO-NE in a "precarious operating position," but drove gas spot prices to $80 MMBtu at one point – triple what it was during the warmer winter of 2012.
And with the retirement of generation assets, future electricity prices could be going up next winter by as much as 40 percent, according to Nicholas Ucci, chief of staff of Rhode Island's Office of Energy Resources.
This has promoted the New England states to propose to the New England Power Pool – an industry advisory group to ISO-NE – to move on two fronts. The states would ask permission from the Federal Energy Regulatory Commission for ISO-NE to impose a one-time tariff on ratepayers to pay for the pipeline and transmission lines and issue a request for proposals for their construction.
The sense of energy urgency has united the New England governors of all political stripes in support of this unprecedented governmental intervention of forcing electric ratepayers to pay for a gas pipeline.
"I was skeptical from the very beginning," said Patrick Woodcock, director of the Governor's Energy Office in Maine. "It's easy to say, 'Let the market work,' but if we don't do anything, our industry is gone. We can't have an economy that operates nine months a year. There has to be a way to get the gas to the Northeast."
There was less emphasis on electric transmission lines, but they could also benefit from the tariff.
PSNH proposed the Northern Pass project without such a regional ratepayer subsidy, but, Quinlan told NHBR, "Northern Pass is precisely the type of project envisioned by the governors, and has the benefit of being years ahead of others proposed in the region."
Such a subsidy might enable Northern Pass to spend more money burying lines and accommodating landowners concerned about their effect on property values.
Market distortion?
The idea of using ratepayer funds for such massive projects has given some reason to pause.
State Consumer Advocate Susan Chamberlin said she is concerned about the cost ratepayers might have to carry in regards to the gas pipeline.
"I understand it is a one-time fix," she said. "But it seems to be a step backward."
As for the transmission line, Northern Pass is already being proposed, "so I'm not sure a ratepayer-funded line is needed."
For suppliers, like those represented by Patch, it could introduce "distortion" into the marketplace, putting local power suppliers at a competitive disadvantage.
For environmentalists, like Christophe Courchesne, an attorney for the Conservation Law Foundation, "the governors are putting all their chips on big-bang solutions" when there are cheaper alternatives that will have an immediate effect – increased funding for conservation measures, renewable energy, development of a smart grid to encourage less peak usage, as well as a backup storage of liquefied natural gas for high-demand periods.
"We could do something right now, not three years from now," echoed Corkery. Weatherization, for instance, "doesn't take that long. It employs a lot of people. The houses are here, so the jobs are here."
But, said Scott, the states have already invested millions in conservation and renewable energy. And ISO did recently change its rules to encourage power producers to store more natural gas.
"It's just not enough. Reduction in demand size is not going to replace the need for the pipeline and transmission lines," he said.
As for Quinlan, the Northern Pass project, he said, "is the single best thing we could do to address the energy crisis that we are talking about. When the sun is not shining and he wind is not blowing, you've got to have baseload plants. We are running out of options. Northern Pass and projects like that are the equivalent of a baseload plant."