New president's energy invigorates Nashua chamber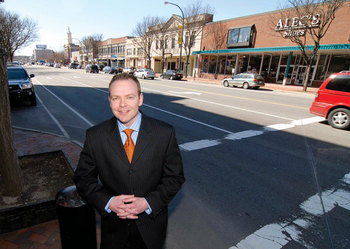 Soon people who are hungry in Hudson will be able to browse a menu in Merrimack without ever leaving their desks, thanks to a new Web site, Menupick.com, to be launched by the Greater Nashua Chamber of Commerce
Using the site – which would linking all of the restaurants in greater Nashua — "you can find any restaurant in Nashua, Merrimack, Hudson, Amherst, Milford, etc.," said Chris Williams, president of the chamber.
Visitors to the site will be able to search for restaurants according to type of food, price or location, Williams said. "For example, if you just want to see all the restaurants in Amherst, you can click onto that. You can click onto a restaurant you're interested in and read reviews of that restaurant online. You can look at a scanned-in menu. And you can get directions that are embedded in the Web site, so you don't have to go to Google or MapQuest or something like that."
The Nashua chamber has developed the site in partnership with the Hudson Chamber of Commerce, the Souhegan chamber in Amherst and Nashua's Great American Downtown.
"We're very excited about this," said Williams, "and the best part is it's free to the restaurants. It doesn't cost them a dime to be part of this Web site. And it really helps us raise the profile of the chamber, because we're spearheading this initiative."
The "profile" of the Nashua chamber is something that comes up often in Williams' conversation, and it is something he has been working on since he left his former job as vice president at the Greater Manchester Chamber of Commerce 10 months ago. The addition of 62 new chamber members in the last four months, he said, shows an increased awareness in Nashua and surrounding communities about what the chamber is doing.
"They're realizing that there is a new energy, there are new programs, new initiatives," he said.
By late May or early June, the chamber will be offering free, 'round the clock wi-fi service to residents and businesses in downtown Nashua. The city of Nashua is a partner in that venture, as is Great American Downtown, an organization promoting Nashua's central business district. Hampshire First Bank is helping to underwrite the Internet service.
"That's a unique model for us to have here in New Hampshire," said Williams. "No other community in New Hampshire currently provides that level of service for their entire downtown area."
Williams, 31, founding chairman of the Manchester Young Professionals Network, is pleased to report a similar organization is in the formative stages in Nashua.
"We feel that will address a critical need in terms of recruiting and retaining young professionals in the greater Nashua area. And it will, once again, increase the profile of the chamber, because we're taking a leading role in helping to make that happen."
The road from Texas
The young chamber president covered a lot of ground, both literally and figuratively, before arriving in Nashua last summer.
The son of a career Air Force man, he was born in the Netherlands and grew up in Canyon, Texas, a town of about 3,500. He majored in political science with a minor in business management as an undergraduate at Texas A&M before earning a master's degree in European studies at Boston University.
He moved to New Hampshire in 1999 to work on the presidential campaign of U.S. Sen. John McCain of Arizona and soon found himself in unfamiliar territory as a field representative organizing support for the candidate in Coos, Carroll and Belknap counties.
"Here I was, the Texan from the deep South, and they were putting me up in the northernmost part of New Hampshire," he said.
But he quickly learned to take the initiative in establishing personal contacts. "Just picking up the phone and saying, 'Can I meet you for coffee? I understand that you know this community well, and I'd like to get to know it better. Would you be willing to share with me some of your insights?'"
That approach has worked well, both in political campaigns and in establishing business contacts, he said. "Because business folks are busy focusing on their businesses, so it's really up to me as a chamber executive to proactively go up to them and establish that one-on-one relationship."
He managed to get an "up close and personal" look at the destruction in Kosovo after the NATO bombing campaign in 2000. As a volunteer with the U.S. Agency for International Development, he spent six months helping to lead clean-up of the town of Jakova in western Kosovo.
"All of the buildings were in rubble and piles of debris. There were dead animals in the streets because there no one there to pick them up," he said. "And we had to go in and literally clean up and rebuild."
He returned to New Hampshire and worked as a legislative aide for then-Senate President Arthur Klemm, a Salem Republican, taking time out between legislative sessions to work on campaigns of GOP state Senate candidates. In 2004, he joined the Manchester chamber as vice president for business development and advocacy.
"Advocacy" meant "tackling issues up in Concord that were important to the Manchester business community," he said.
He also worked with Cindy Harrington of the state Department of Resources and Economic Development and Diane Terragni of LE Bagley Company in Manchester to create the Metro Center, a forum for business and civic leaders in Manchester and surrounding communities to discuss and pursue common objectives.
"They're talking about what they can do to develop the greater Manchester region in terms of attracting and sustaining strong businesses," Williams said. "They're looking outward to their neighbors and coming together to share and pool their resources."
After Chris Hodgdon resigned as president of the Nashua chamber last year to work on government relations for Comcast, members of the chamber board approached Williams about the job.
"Nashua is the second-largest city in the state and the high-tech hub of the state," said Williams. "This was a good opportunity for me to step in and try to do things with the business community down here."
Jay Minkarah recently made a similar move in the opposite direction, leaving the economic development director's job with the city of Nashua to take the same position in Manchester.
During the brief time they worked together on projects and issues in the Gate City, Minkarah formed a favorable impression of the new chamber president.
"I was really impressed with his seemingly endless energy and enthusiasm," Minkarah said. "Chris grasps the issues very quickly and has a very good way of working toward solutions. I think he's been a tremendous contributor to a number of projects we worked on jointly, from spearheading the downtown wi-fi initiative to working with us on projects like commuter rail and the Broad Street parkway."
Williams doesn't know where his energy and enthusiasm will lead him next, but the transplanted Texan said he plans to remain at the Nashua chamber for at least five years, and in New Hampshire long after that.
"My family all lives in Texas, and they keep asking me when I'm going to move back. I tell them when I retire, maybe I'll get a winter home there to get away from the cold up here. I love New Hampshire," he said, its cold winters notwithstanding.
In another five to 10 years, he said, he could be back in the political arena, or "I could be working in the business community," he said. "I've got a lot of opportunities ahead of me."