New Peterborough neighborhood takes environment seriously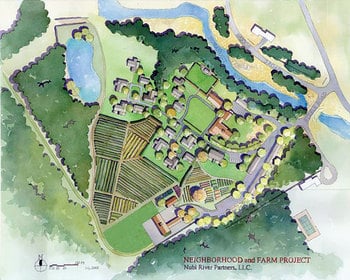 A town of 6,100 people, Peterborough boasts the first public library in the country, the oldest operating summer theater and the renowned MacDowell Colony. Now the town is preparing to adopt one more title – it will become home to the Nubanusit Neighborhood and Farm, the state's first condominium cohousing community.
Homes in the mixed-use development will be nestled together. Golf and garden carts and bicycles will replace cars, hiking trails will guide visitors through fields and forests and the neighborhood farm will yield biodynamic food for residents of the Neighborhood and beyond.
Once completed, 29 families will call the West Peterborough neighborhood home. The seven single-family homes, seven duplexes and two quads will all be situated on only five acres of a 113-acre parcel, designed to lessen their collective environmental footprint while promoting neighborly interactions.
The site, once home to John Steele, who served as governor of New Hampshire in 1844-1845, is a mile from the town center and has frontage along the Nubanusit and Contoocook rivers.
"This neighborhood will be one of the greenest in the Northeast," said Maude Salinger, spokesperson for the innovative project.
The homes of Nubanusit Neighborhood will be energy-efficient, making use of triple-pane windows, long-lasting cedar siding, south-facing roofs and other "green" features.
Homes will be heated and hot water generated by a centrally located pellet boiler using locally produced biomass fuel. The site also is wired internally for future onsite wind and water power.
Smaller than the sprawling places being built in some of the state's suburban communities, the homes of Nubanusit will be between 863 square feet (one-bedroom flat) and 1,888 square feet (four-bedroom single family).
Attached garages will be replaced with carports set along the periphery of the pedestrian-friendly neighborhood.
A 4,250-square-foot Common House, complete with large kitchen and dining areas, several gathering spaces and guest accommodations will be located in the center of the neighborhood, providing families with extra space when needed.
The neighborhood's biodynamic farm will sit adjacent to the homes and Common House. Vegetables, herbs and fruits will be harvested in the gardens and orchards. Chickens will be raised for eggs and meat, a small dairy herd will provide milk and the neighborhood's own apiary will produce honey. The farm also will house other animals for food and pleasure.
"Any food produced on the farm that is not consumed by the Neighborhood will be made available to the greater community," said Goguen Hulbert, a certified biodynamic farmer who, along with her husband Robin, were among the Neighborhood's co-founders.
The Governor Steele home, the only original structure on the property, will contain office space.
Peterborough's commitment
Nubanusit Neighborhood and Farm is indicative of Peterborough's commitment to becoming a "green community."
"Peterborough is a progressive community that values open space, land conservation and locally grown foods," said Goguen Hulbert.
The town has been recognized for its aggressive recycling effort, a wood pellet furnace that heats the town library and an energy committee is working toward making Peterborough a sustainable community.
In addition, the newly renovated Union Mill recently opened in western Peterborough under the direction of "green entrepreneur" Luc Monzies.
Built by John Steele in 1824, the 25,000-square-foot mill building has been environmentally retrofitted and renovated and is now a successful example of sustainability. It currently houses 10 apartments, a café, organic market and numerous businesses.
Although both projects were born independently of each other, common goals are expected to bond the two as the new neighborhood comes to fruition.
"Once up and running, the farm will be able to provide the store with produce and, of course, residents of the neighborhood will shop at the store and the café," Salinger said.
Home prices in the new neighborhood reflect its quality and environmentally focused construction and design, running between $280,000 for a one-bedroom flat and $615,000 for a single-family home. But costs associated with running a home will be low. Heat and hot water, for instance, are expected to cost about $72 a month for a single-family home, Salinger said.
The Neighborhood's founders hope to establish a funding program to assist families with limited financial resources.
Currently, 18 homes are either under agreement or reserved. And 65 people attended a recent open house hosted at Nubanusit.
"Interest remains steady," said Salinger. "This project is testimony to the fact that development doesn't have to have a negative impact on the environment."
For more information on Nubanusit Neighborhood and Farm visit www.peterboroughcohousing.org.