New 'Metro Center' has economic clout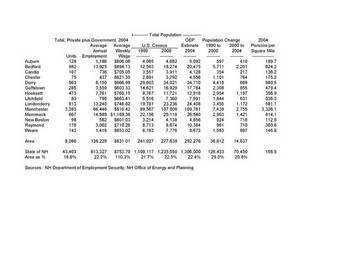 A new and exciting initiative, known as "The Metro Center," has emerged from an effort by the Greater Manchester Chamber of Commerce to reach out to the communities around the city to construct a regional approach to common issues facing the area.
The Metro Center is a conglomerate of 14 communities, including Manchester and its neighbors, which are working in partnership with the Chamber and the New Hampshire Division of Economic Development to promote economic development on a regional level. This model is new to New Hampshire, in that each community has agreed to start looking at economic development as a regional, collaborative effort rather than an individual community effort.
The 14 communities in the Metro Center are Auburn, Bedford, Candia, Chester, Derry, Goffstown, Hooksett, Litchfield, Londonderry, Manchester, Merrimack, New Boston, Raymond and Weare.
The Metro Center is one of the largest urban areas in New Hampshire. It is home to more than 8,000 businesses, which provide more than 136,000 jobs, equaling one-fifth of New Hampshire's total job base.
The average weekly wage paid in the Metro Center is 10 percent above the state average. Although about 20 percent of New Hampshire's population resides in the Metro Center, the area accommodated nearly 30 percent of New Hampshire's population increase from 1990 to 2000.
An examination of worker commuting patterns from the 2000 Census demonstrates strong interdependence among Metro Center communities. For example, while 2,392 Bedford residents worked in their own town in 2000, 2,657 commuted to jobs in Manchester from their Bedford homes. Manchester was the No. 1 commuting destination for residents of Goffstown, New Boston, Londonderry and Weare. And it is well known that most of the Manchester Airport is actually in the town of Londonderry.
The Metro Center is a unique definition of Manchester and its surrounding communities as a contiguous urban area. The Metro Center cuts across county lines, since it includes communities in Hillsborough, Rockingham and Merrimack counties. The definition also differs from the recently published New England City and Town Areas (NECTAs) definition for Manchester, as originated by the federal Office of Management and Budget.
But regions are really defined by economic opportunity, and there is ample reason for the Metro Center to retain a distinctive identity as an economic area in New Hampshire.
As noted by Kansas City Federal Reserve Bank Economist Mark Drabenstott, "21st century economic regions are no respecters of 19th-century surveyors."
Economist Dennis Delay prepared this analysis for the Greater Manchester Chamber of Commerce, which recently distributed it as part of its "Economic Insight" e-mail newsletter. He can be reached at delaydc@grolen.com.