New Manchester chamber CEO is named
Mike Skelton picked after national search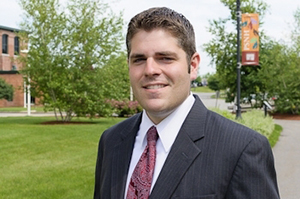 Mike Skelton, most recently a spokesperson for Public Service of New Hampshire and a former vice president of the Greater Manchester Chamber of Commerce, has been named the chamber's new president and CEO.
The 32-year-old Skelton, a Bedford resident, was chosen after a national search for a successor to the chamber's CEO Robin Comstock, who stepped down from the post earlier this year.
Skelton served as the chamber's vice president of economic development and advocacy from 2006 to 2011. During his tenure, he managed and directed the chamber's development and advocacy efforts by representing the organization to local, state and federal policymakers.
Skelton is co-chair of the board of Stay Work Play and previously served as a board member and chair of the Manchester Young Professionals Network.
"Mike brings fresh perspective that will help us shape the future of the state's largest chamber," said Ron Covey, CEO of St. Mary's Bank and chair of the chamber's board of directors.
Skelton said he will "work tirelessly with our board of directors, staff and volunteers to ensure the chamber is a strong and influential ally for our members and effectively advocates on their behalf with policymakers."