New liquor store planned in Rochester
Liquor Commission to build new Liquor & Wine Outlet at Ridge Marketplace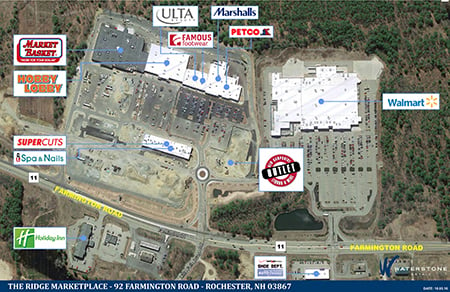 The NH Liquor Commission has announced plans to build a new, 20,000-square-foot Liquor & Wine Outlet in the Ridge Marketplace on Route 11 in Rochester.
Ridge Marketplace, developed by Waterstone Retail, will include a Walmart Super Center, Marshall's, Market Basket, PETCO, Famous Footwear and several other national retailers. Construction is scheduled to begin in May 2017.
"Waterstone is thrilled to be partnering with the NH Liquor Commission on our latest development project in Rochester," said Jennifer Fairfield, Waterstone's marketing director. "With the addition of a leading retailer like the NH Liquor & Wine Outlets, we are certain tens of thousands of shoppers from the local community, surrounding towns and year-round tourists traveling along Route 11 on the route to the Lakes Region and the mountains will flock to The Ridge."
During the past four years, NHLC has relocated or renovated 26 Liquor & Wine Outlets.