New Hampshire, Vermont universities react to Supreme Court's affirmative action ruling
Administrators insist decision will not lessen their commitment to diversity and inclusion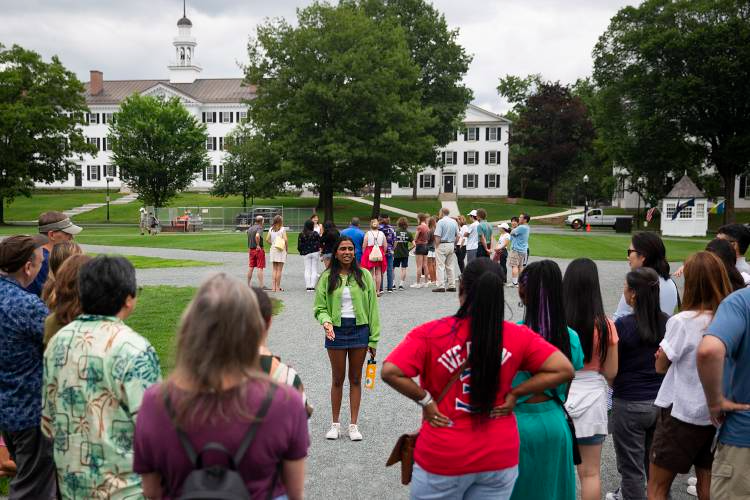 College and university administrators in the New Hampshire and Vermont say that the U.S. Supreme Court's June 29 decision to overturned affirmative action in college admissions will not diminish their schools' commitment to diversity and inclusiveness in their student enrollment, though some schools may have to review their admissions programs.
Several administrators said they had anticipated the ruling, in which the U.S. Supreme Court voted, 6-3, that factoring race into college admissions is unconstitutional.
While the ruling is provoking "a strong emotional response" nationally and locally, Dartmouth College President Sian Leah Beilock said in a written statement that the court decision "in no way changes Dartmouth's fundamental commitment to building a diverse and welcoming community of faculty, students and staff."
"Diversity, including racial diversity, is vital to our mission of knowledge creation in service to society," Beilock stated. "Research shows that diverse teams lead to better outcomes. While there will be differences of opinion and robust discussion about the ruling itself, we begin the conversation from this common, foundational understanding that a diversity of lived experiences and perspectives enriches discovery and the Dartmouth education — it makes Dartmouth stronger."
Beilock said that Provost David Kotz, in anticipation of the ruling, has been meeting regularly with the admissions deans and other school officials to discuss how to adapt admissions policies to the new legal requirements.
According to 2022 diversity statistics, 48 percent of Dartmouth College's student body are white, 13 percent are Asian, 9 percent are Hispanic or Latino and 5 percent are Black or African American.
Rod Smolla, president of Vermont Law and Graduate School in South Royalton, Vt., noted two important passages in the court's majority opinion, written by Chief Justice John Roberts, that give colleges and universities some leeway in terms of considering a student's racial or ethnic background in the admissions process.
In one passage, the opinion states that college admissions may consider "an applicant's discussion of how race affected his or her life." This could include a student illustrating courage or determination through overcoming racial discrimination or how a student's culture or heritage influenced the student to assume a leadership role.
While universities cannot factor admissions solely on a student's race, Smolla said admissions officers can listen to a student's description of how their identity and experiences helped shape their character and their future potential — and incorporate that into their evaluation.
"And that is what our school will do, exactly as the ruling permits," Smolla said.
Smolla also said the court opinion does not restrict a school's efforts to promote values of diversity, equity and inclusion in the school community.
"We remain unfettered and undeterred in our resolve to continually advance our mission of ensuring that we are welcoming, safe and inclusive to all members of our community," Smolla said.
According to 2022 data, 70 percent of the total students at Vermont Law and Graduate School are white, 9 percent are Black or African American, 4 percent are Hispanic or Latino and 1 percent are Asian.
Maurice Ouimet, vice president of admissions and enrollment at Vermont State University, said their admissions policy evaluates students on only one criteria — academic readiness. Vermont State University officially came into being on July 1 through the merger of four institutions — Castleton University in Castleton, Vt., Northern Vermont University campuses in Johnson and Lyndon, Vt., and Vermont Technical College in Randolph.
"We always tell our student applicants that we are looking for reasons to accept them," Ouimet said. "Our process is about accepting students who will be academically successful, and that is our bottom line."
Ouimet said students who aren't academically ready for the university are encouraged to take courses at community college to build their needed skills or knowledge and reapply.
"We are blind to all other factors," including race and income, Ouimet said.
The university does not even give an enrollment preference to in-state applicants, according to Ouimet, who said that a student from Massachusetts is treated equally to a student from Vermont.
Students at Vermont State University are predominantly white, according to demographics. Of the university's approximately 5,000 students, only 18 percent are non-white, including U.S. and international students.
A spokesperson from Colby-Sawyer College in New London also said in a written statement that the court decision will have no effect on its admissions process.
"Colby-Sawyer employs a holistic admissions process in which acceptance is based on each applicant's academic achievements, extracurricular involvement and volunteerism, among other characteristics," the statement read.
This article is being shared by partners in the Granite State News Collaborative. For more information visit collaborativenh.org.