New Hampshire exports fall again in October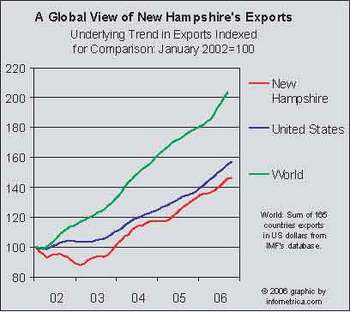 After falling 2.9 percent in September, exports from New Hampshire companies declined another 4 percent in October – a $9.7 million monthly fall in foreign shipments that brought total exports to $234.4 million in October.
But, compared with last year, the latest snapshot in trade numbers shows that exporting companies posted gains in foreign demand for goods made in the Granite State. In October of this year, consumers and businesses from abroad bought $16.4 million, or 7.5 percent, more goods made in New Hampshire than a year ago.
Shipments abroad from state manufacturing plants dropped 8.7 percent from the previous month, falling to $188 million.
Manufactured goods accounted for 80 percent of all state exports in October. Compared with last year, October's exports from state factories were $900,000 higher.
Exports of non-manufactured goods totaled $46.4 million in October — a 21.9 percent increase from September. This group of shipments abroad consists of agricultural goods, mining products, and re-exports.
Looking at the major exporting industries, the top five contributed about three-fourths of all state exports in October. Machinery – mainly printing and office equipment, personal computers and other high-tech products – was the state's largest exporting industry, creating $76 million in export revenues.
Electrical equipment – mostly sound equipment and integrated circuits – was the state's second-largest export earner, generating $56 million in foreign sales in October. Optical and medical instruments were the third-largest exporting industry, with shipments abroad of $23 million in August.
The combined foreign sales of these three industries totaled $155 million — 66 percent of all state exports in October.
Iron and steel, and plastics followed in the list of the top five exporting industries.
At the national level, exports of goods, adjusted for seasonal variation, declined 0.2 percent in October to $88.5 billion, mainly reflecting declines in industrial supplies and materials and automotive vehicles, parts and engines. Increases occurred in capital goods and foods, feeds, and beverages.
New Hampshire ranked 32nd among the 50 states in the first 10 months of 2006. New Hampshire's annual growth in foreign sales was 13.0 percent, compared to the same period a year ago, adjusted for seasonal variation.
For the nation as a whole, exports increased 14.9 percent during the same period.
According to a recent survey conducted by the Institute of Supply Management, the nation's supply executives continue to be optimistic about the prospects of growing export markets. The Tempe, Ariz.-based organization reported that its export orders index continued to show growth in new export orders in November 2006 for the 48th consecutive month.
However, November's reading implies that the speed of new orders received from abroad is slightly slower than in October.
Evangelos Simos, chief economist of the consulting and research firm Infometrica Inc., is editor for International Affairs in the Journal of Business Forecasting, and professor/department chair at the Whittemore School of Business & Economics, University of New Hampshire. He may be reached at eosimos@infometrica.com.