New Hampshire exports continue slide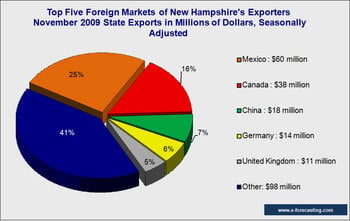 After a decrease of 3.8 percent in October 2009, sales abroad by New Hampshire's exporting companies dropped another 6.7 percent in November – a $17.4 million drop that brought total exports to $240.4 million for the month.Exports were $42 million, or 14.9 percent, less than in November 2008.While manufactured goods accounted for 77 percent of all state exports in November, shipments abroad from manufacturers decreased 12.2 percent from the previous month, to $185.2 million. Compared with 2008, November's exports were $57.8 million lower.Exports of non-manufactured goods totaled $55.3 million in November, an 18 percent increase from October.
Foreign buyers from five countries made up 60 percent of the overall global demand for New Hampshire goods. In November 2009, consumers and businesses in Mexico bought $60 million – or 25 percent – of all state exports, making Mexico the largest export partner of New Hampshire's companies. However, Mexican purchases were 25 percent lower in November 2009 than a year earlier.Canada, which used to be the largest export market for New Hampshire's companies, is now second. In November 2009, Canadian companies bought $38 million of goods made in the state, a 3 percent decline from 2008.China was the third-biggest buyer of state exports in November, with purchases of $18 million, accounting for 8 percent of all foreign sales. Chinese companies bought 12 percent fewer New Hampshire goods in November 2009 than a year earlier.Exports to Germany, the state's fourth-biggest trading partner, decreased 6 percent last November in comparison with November 2008. German buyers imported $14 million of goods made in New Hampshire.British consumers and businesses spent $11 million last November, 42 percent less than in 2008, thus making the United Kingdom the fifth-biggest trading partner of state exporting companies.Evangelos Simos, chief economist of the consulting and research firm e-forecasting.com, is editor for international affairs of the Journal of Business Forecasting and professor at the University of New Hampshire's Whittemore School of Business & Economics. He can be reached at eosimos@e-forecasting.com.