New Hampshire engineer wins national advocacy award
Darren Benoit named ASCE's first Advocate of the Year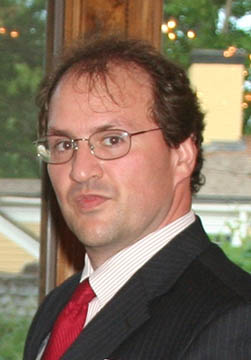 Darren Benoit, who heads the highway group for McFarland Johnson Inc. in Concord, has won the American Society of Civil Engineers' Outstanding Civil Engineer Advocate of the Year Award, the first time the award has been presented.
Benoit, of Bow, was honored for his efforts in promoting the need for infrastructure investment to strengthen New Hampshire's economy and enhance residents' quality of life, the society said.
Benoit has advocated for improvements to aviation, an increased investment in surface transportation at both the state and federal levels, passage of the Water Resources Reform and Development Act, and dam safety. In 2011, he led the New Hampshire Section of ASCE in its release of the Report Card for New Hampshire's Infrastructure and has again taken the lead to update the report.
He's also testified before the New Hampshire Legislature in support of transportation bills, including in 2014, in support of raising the fuel tax to increase investment in roads and bridges.
"As civil engineers, we are constantly thinking about the public's safety and welfare. Being a resource to lawmakers extends that effort by making sure legislators consider how their decisions will impact our infrastructure and environment—and, by extension, the economy," said Benoit.
Benoit, who has 25 years' experience as a transportation engineer, has managed highway, bridge and aviation design projects over his career.
He will be recognized at the American Society of Civil Engineers' annual Legislative Fly-In, March 24-26 in Washington, D.C.