New England College launches esports program
Competitive gamer Tyrelle Appleton to lead program starting in 2019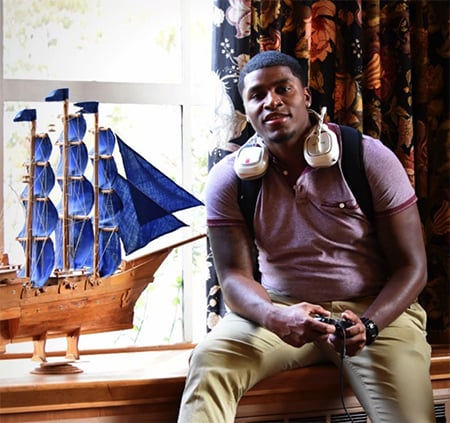 To complement academic programs that teach game design, game theory, social media branding and strategy, New England College will launch a new esports program in January led by Tyrelle Appleton, a nationally respected former esports competitor.
New England College is a member of the National Association of Collegiate Esports, the governing body for esports. It is one of only a handful of colleges nationwide that utilizes Dell's Alienware platform, which the college says pushes the boundaries of current gaming limits and offers extensive partnerships nationally that will give students in Henniker unique and expansive esports opportunities.
A position on the esports roster will be competitively available to all interested students, providing some the opportunity to build their skills and move to the professional ranks while others may play casually.
Appleton, who launched the region's first ever collegiate esports program in 2017, will serve as head coach, building on deep involvement in the esports scene with experience in both tournament organization, sponsorship procurement and management.
"It is the arena where the very best compete, and our technology will not only help NEC students learn and sharpen their skills, but we will be able to use this technology to provide students the very latest in video game design and development," explained Appleton, who was the first-ever competitive "Gears of War" player in the country to formally partner with Major League Gaming.
New England College will offer games such as "Overwatch," "Fortnite," and "League of Legends" – the most popular games in the world. All are online multi-player games and participants will compete as a team to defeat an opposing institution.
"Video gaming has been a popular activity for a long time," said New England College President Michele Perkins, "but esports is just now emerging as a competitive event at the college level and we plan to be actively engaged from the start in this emerging field."
Students learn the same skills and talents as other sports: leadership, communication, perseverance, and determination. New England College's new esports program will include men and women competing with teams at other institutions.
This announcement comes as New England College is building an esports arena at its Henniker campus, which will feature a competition and practice setting along with a comfortable vibe. Appleton anticipates 20-40 students will join the first semester. "My hope for the esports program at New England College is to build it from the ground up and help establish New England College as a major competitor in the esports field," he said