New downtown Manchester hotel taking shape
Procon designed and is building Residence Inn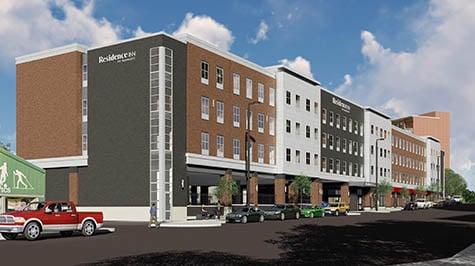 Crews from Procon Inc. have begun working on an 82,200-square-foot Residence Inn by Marriott hotel at the corner of Lake Avenue and Chestnut Street in downtown Manchester.
The owner, AAM 15 Management of Burlington MA, selected Hooksett-based Procon as architect and construction manager for the project, which is across the street from the SNHU Arena.
The four-story extended-stay hotel will feature 105 king and 18 double queen studio suites, a lounge and bar, breakfast buffet area, a salt water pool, fitness facility and an outdoor patio with a fire pit, grill and alfresco seating. Two private meeting rooms will be available for business meetings, seminars and social events.
This the first New Hampshire hotel for Burlington, Mass.-based AAM 15, which has developed hospitality projects in Massachusetts, Vermont, Maine and Virginia.
"We are very excited to be a part of the growth of Manchester's central business district," said David Masse, AAM 15's CEO and founder. "We believe that its accessible downtown location will attract business and leisure travelers to stay in the area and patronize the local retail, dining, and entertainment venues," he added.
Masse said that, when finished, the hotel will create approximately 50 permanent jobs. He also said he hopes that SNHU students pursuing a degree in the hospitality business will see the new Residence Inn as an opportunity to gain practical work experience through internships.