New campaign promotes 43 N.H. ice cream shops
Granite State Diary Promotion unveils Ice Cream Trail map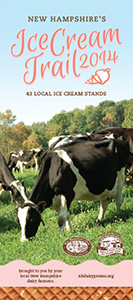 Memorial Day weekend marks the release of the New Hampshire Ice Cream Trail map, which features 43 ice cream shops around the Granite State, from Nashua to Pittsburg.
Sponsored by Granite State Dairy Promotion and supported by the New Hampshire Department of Agriculture Markets and Food, the campaign also includes a contest: Ice cream lovers visit all 43 ice cream shops on the map will be entered into a drawing to win a one-year membership to Planet Fitness, a basket of New Hampshire-made products and a Granite State Dairy Promotion sweatshirt.
"We hope the map will connect consumers with local ice cream shops and foster an appreciation for local, family-owned dairy farms," said Amy Hall, director of Granite State Dairy Promotion. "New Hampshire's Ice Cream Trail is a summer tradition everyone can enjoy."
Maps can be found at all New Hampshire rest areas, welcome centers and chamber of commerce locations. A copy of the map can also be downloaded from Granite State Dairy Promotion's website.