New building to house Colby-Sawyer College's expanded nursing program
School breaks ground on $19 million Janet Udall Schaefer '52 Center for Health Sciences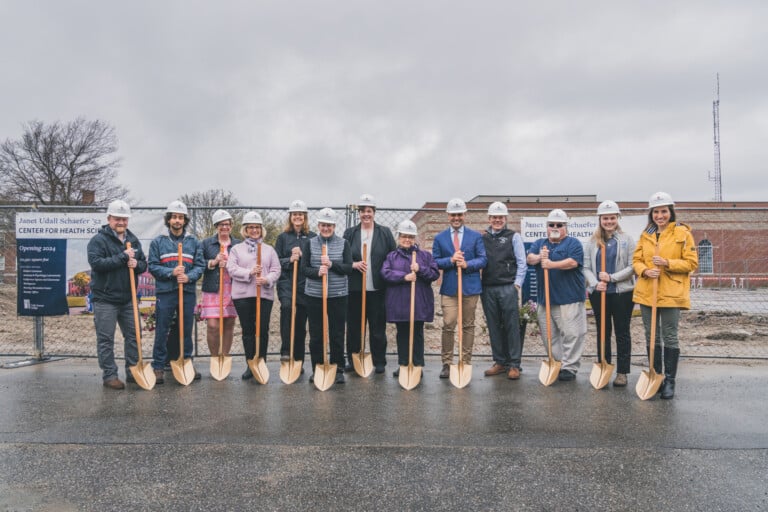 Amid a healthcare workforce shortage, Colby-Sawyer College broke ground May 4 on the planned 20,500-square-foot home for its School of Nursing & Health Sciences.
The project is moving forward in spite of a steep escalation in costs since the private New London college announced the project last year. The Janet Udall Schaefer '52 Center for Health Sciences now comes with a $19 million price tag, which is up from the $10.5 million estimate the college was working with last year.
The increases are "tied to what people know about the economy," Dan Parish, Colby-Sawyer's vice president of advancement, said. Labor and equipment costs are up. The college also is navigating some supply chain issues, although those have improved lately, he said.
The new building will be named for Schaefer, who died at the age of 89 in February 2022. She left Colby-Sawyer more than $12.5 million, which makes it the largest one-time gift in the school's 186-year history, about half of which will be dedicated to the new building.
The building is intended to provide space for everyone on campus to gather and is to include study spaces, as well as a cafe. The entire second floor is to be a nursing simulation center that Parish said will "look and feel a lot like the hospital setting".
The project builds on the college's relationship with Dartmouth Health and is a part of an expansion of the college's health science programs.
In January 2020, the two organizations announced a DH pledge to invest $3.25 million in the college's health science programs. "For Colby-Sawyer our relationship with the entire DH network is really critical," Parish said.
DH had its own nursing school, the Mary Hitchcock Memorial School of Nursing, from 1893 to 1980. The next year, Colby-Sawyer opened its bachelor of science in nursing program. About 80% of Colby-Sawyer's nursing graduates have historically gone on to work at DH.
Susan Reeves, chief nursing executive of Dartmouth Health and executive vice president of Dartmouth Hitchcock Medical Center, said that both DH and the college benefit from their relationship. DHMC serves as a clinical training site for Colby-Sawyer students.
"The new facility allows ongoing growth in the student population of the college, many who pursue careers in healthcare," she said in an emailed statement. "We look forward to years of ongoing collaboration and partnership."
Colby-Sawyer helps produce new workers and also helps train current DH employees to help them advance their careers, Parish said. The college is working to get to the point where it graduates as many as 80 new nurses annually. It currently has 250 students enrolled in the new graduate professional programs its added over the past four years, Parish said. The new programs include: a Master of Science in Nursing, a master's degree in social work and a Doctor of Nursing Practice degree.
"There is just a huge need for highly trained health care professionals," he said, noting that New Hampshire regularly has about 2,000 health care vacancies. "Whatever we can do to train and educate more nurses and more providers, it's really important right now."
For Colby-Sawyer, which like many small colleges is vying for a shrinking pool of prospective students, the relationship with DH helps the college to address a "real need" in the marketplace and to help it deliver programs that prospective students are seeking, Parish said.
The new programs also are part of the college's efforts to reinvent itself following financial losses attributed to national trends. In 2016, Colby-Sawyer laid off 18 employees and eliminated five majors — English, philosophy, accounting, health care promotion and health care management.
Last fall, the college also announced that it would be reducing its tuition to $17,500, 62% less than the list price for the current year of $46,364. The move was aimed at making the sticker price reflect the fact that all of the Colby-Sawyer's students receive financial aid. With room and board, the new price is about $35,000 annually.
The new health sciences building is slated to open in the fall 2024.
This article is being shared by partners in The Granite State News Collaborative. For more information, visit collaborativenh.org.