NEC breaks ground for 20k-square-foot academic building
Harvey Construction, RFS Engineering on construction team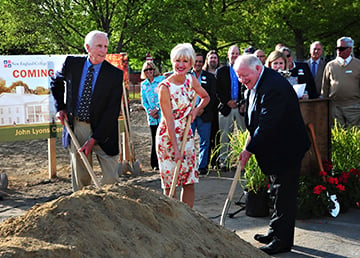 Groundbreaking for the John Lyons Center, a new academic building at New England College in Henniker, was held as part of New England College's commencement weekend celebration.
The center, to be built by Bedford-based Harvey Construction, was designed by DSK Architects + Planners of Concord, Mass., and RFS Engineering of Laconia.
It will include approximately 20,000 square feet of academic, meeting and faculty space.
Built to LEED standards, the building will feature a two-story learning commons and café, surrounded by classrooms, seminar rooms, group study spaces and offices.
Expected opening is fall 2016.