Navy takes another shot at shipyard prison redevelopment
The Navy issued a notice on Feb. 28 announcing the leasing opportunity for up to 50 years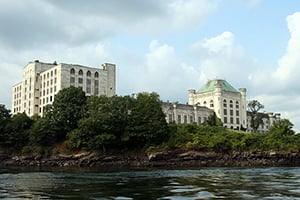 The U.S. Navy is hoping the third time's the charm in its on-again, off-again efforts to redevelop the Portsmouth Naval Shipyard's long-closed prison, perhaps with the help of the private sector.
The multi-story, 265,000-square-foot building dates back 106 years. It has 11-1/2 acres of waterfront land.
The Navy issued a notice on Feb. 28 announcing the leasing opportunity for up to 50 years for private and public sector developers.
The first time the Navy tried to redevelop the prison was in the late 1990s, but that effort to transform the prison into premium office space fell through after New Hampshire developer Joseph Sawtelle of New Castle died in 2000.
The Navy tried again in 2008 but abandoned the effort a year later.
"The Navy is again offering leasing opportunities at the property, and proposals will be evaluated in several areas … including environmental compliance, compatibility with the base's mission and economic viability," Tom Kreidel, spokesman for the Naval Facilities Engineering Command in Virginia, told the Associated Press.
The new tenant would be responsible for ensuring structural stability in the now-dilapidated building, and cleaning up hazardous waste, including asbestos and lead paint.
Because of security issues, businesses that rely on unrestricted public access like movie theaters, retail stores and restaurants won't be allowed. The Navy also specifically ruled out a liquefied natural gas terminal, a casino or another prison.
Interested developers can learn more in early April at a scheduled forum in Eliot, Maine. More information on the building and forum is available on the Navy website.