Natural gas again pumps up Unitil earnings
Thanks to the cold winter, the company is more profitable so far this year, with earnings up 24%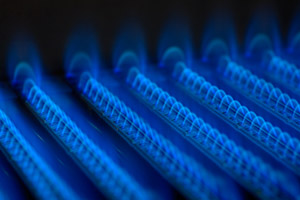 Unitil Corp. didn't quite break even last quarter, but that's good news.
The Hampton-based company lost about $100,000, or a penny a share, in the second quarter of 2013. But the utility never makes much money during the shoulder seasons, especially since diversifying into natural gas. The previous spring, the company lost $400,000.
But thanks to the cold winter, the company is much more profitable today, with earnings of $10.7 million (or 78 cents a share), up 24 percent compared to the first half 2012.
Unitil mainly has natural gas to thank. Despite a brief prices spike over the winter, the price of the fuel continues to decline, causing more homes and more businesses to switch to gas. And because the winter was colder this year than in 2012, customers also used more gas — than 12 percent more.
"Our earnings continue to reflect the strong growth in our gas customer base, as more and more households and businesses in the areas we serve are choosing natural gas as their preferred source of energy," said Robert G. Schoenberger, Unitil's chairman and CEO.
Electricity sales – once the company's main product – also rose, but not by as much — about 2 percent for the quarter and the year. Commercial usage was flat for the quarter.
Expenses have also been going up because of the increase in severe weather. Superstorm Sandy wreaked about $3.8 million in damage on Unitil's system, but such events also put pressure to undertake greater vegetation control, which went up $800,000 year to date compared to the first half of 2012.
Unitil however gets to recover those costs from ratepayers.