Nashua Olympian places 27th in Games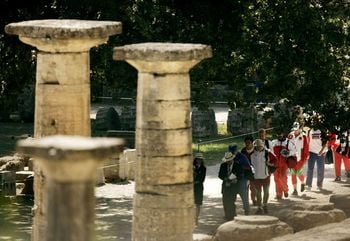 For Nashua's Laura Gerraughty, the 2004 Olympics ended Wednesday morning at about 2:30 a.m. EDT, as bleary-eyed friends and fans back home looked on with pride and, ultimately, disappointment.
Part of the disappointment, no doubt, came from the live broadcast on MSNBC.
While there were several glimpses of Gerraughty in the background before and during the competition, her first throw came during one of the frequent commercial breaks and wasn't shown.
The cameras caught Gerraughty's second and worst throw. But on her third qualifying attempt, her last shot at reaching the finals, a tight shot of her technique was used and viewers never got to see the steel ball land.
It landed well short of the automatic qualifying line – and well short of the distance she needed to be one of the 12 finalists.
Gerraughty finished 27th out of 38 throwers. Her best throw, her third, was 54 feet, ½ inch, or nearly 9 feet less than her personal best.
Bill Stumpf, who coached the 21-year-old former gymnast at Nashua High School and traveled to the Olympic Trials in Sacramento last month, recorded the event and watched it early Wednesday morning with his wife.
"Just seeing her in the USA uniform, my heart rate went up," Stumpf said. "I'm sure she's so disappointed in herself and feels she let people down.
"That couldn't be further from the truth."
Brenda Grady of Merrimack, one of Gerraughty's former teachers at Nashua High, has closely followed her post-high school career at the University of North Carolina.
Grady thinks Gerraughty will turn any disappointment concerning her performance on Wednesday into a positive.
"Laura is very analytical, and she has the spirit in her to excel," Grady said. "When she told me, as a sophomore, she was giving up gymnastics, she cried.
"Then she told me she was taking up the shot put and how gymnastics would help her, how it taught her about every muscle in the body."
Grady said she hasn't been surprised at how high Gerraughty has climbed in the sport in a short amount of time.
"When I saw how hard she worked, I knew she'd be going to the Olympics someday," Grady said.
Had Gerraughty been able to match her NCAA record toss of 62 feet, 10 inches, it would have been the third best qualifying throw and easily put her in the finals held later in the day. The 12th and final qualifier, Meiju Li of China, threw 59 feet, 6 inches.
The best qualifying throw belonged to Nadezhda Ostapchuk of Belarus, at 64 feet, 7 inches. But Ostapchuk didn't win a medal. The gold medal went to the second best qualifier, Irina Korzhanenko of Russia, who threw 68 feet, 11½ inches in the finals.
Yumileidi Cumba of Cuba took the silver medal (64 feet, 3 inches) and Nadine Kleinert of Germany (64 feet, 1½ inches) captured the bronze.
The other two U.S. women in the competition, Kristin Heaston and Kimberly Barrett, finished 22nd and 28th, respectively.
Gerraughty can now set her sights on China and the 2008 games in Beijing.
During the MSNBC broadcast, former Olympic high jumper and longtime track and field analyst Dwight Stones referred to Gerraughty as "the future of America in the shot put."
On Wednesday, in a competition that began at 8:30 a.m. in Greece, Gerraughty had an opportunity to soak in some of the past.
The shot put was the only Olympic event contested on the hallowed plains of Olympia, more than 2,800 years since the last Olympic events were held there.
According to historians, the first Olympics were held in Olympia in 776 B.C. Competition continued there until 393 A.D.
Every four years, the Olympic flame is lit on the site to begin the torch relay, a tradition that began with the 1936 Olympics in Berlin.
Now little more is left of the site than a dirt road, a stone arch entrance and other archeological artifacts. Access was limited to 15,000 fans, who stood on a hillside overlooking the event. Admission was free, but only water was on sale at concession stands.
"She just experienced something that is once in a lifetime," Stumpf said. "I know she's probably beating herself up now, but eventually she'll be happy and proud that she did what she did."
Like Stones, Stumpf believes Gerraughty is the future of the women's shot put. She was the only woman in the competition employing the rotational or spinning method, now used by the majority of the top male throwers.
"She's on the cutting edge of the sport," Stumpf said. "With Laura, it's all about speed and technique, and there are more things that can go wrong.
"She didn't hit her blocks and release at the right time. Unfortunately, in the prelims you only get three chances. But she's young and she's just going to get better."
And Stumpf is already thinking about his own travel plans.
"I'm going to China," he promised late Wednesday morning.
Because he knows who else will be there.