Nashua homeowner files what may be state's first suit against solar-panel installer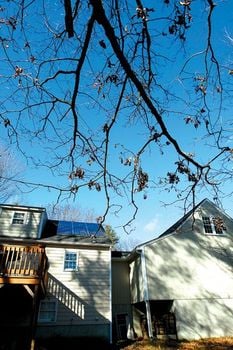 In modern America, you might say an industry isn't real until it has been sued by a disgruntled customer.
For better or worse, rooftop solar panels are now real in New Hampshire.
"I'm an early adapter. I like new technology," said Stephen Hagerman, of Nashua. "But this has been a disaster."
The Hagermans recently filed what appears to be the first lawsuit in New Hampshire that involves the installation of solar panels on a house.
While there have been disputes over solar installations before – such as three big panels on poles next to an Amherst home that were eventually removed because they didn't provide enough power – none have gone to court, as far as any state or industry officials can recall.
The Hagermans say the roughly $12,000 system installed this summer by PhotoVoltUS, of York Beach, Maine, has never come close to producing as much electricity as they were told it would, because of bad design and a lack of follow-through, compounded by what they say are mistruths.
The couple's filing in Nashua District Court alleges a "breach of the . . . duty of reasonable care" and asks for varied damages.
The founder of PhotoVoltUS admits the Hagermans' wooded, quarter-acre lot near New Searles Elementary School may not be appropriate for solar power. He says, however, that the couple has been unreasonable in their expectations, and created unnecessary arguments over roofing conditions and liability for repairs that is blocking attempts to end the dispute.
"From the day I first went out there, this guy was threatening to sue us," said Don Bristow-Carrico, CEO of PhotoVoltUS.
On the net:
He says the legal dispute, compounded by a complaint to the Better Business Bureau that has cut off his access to credit, will drive the small company out of business.
Still, despite anger and bitterness on both sides, everybody agrees on one thing.
"We still think it's a very good idea – it's the future," said Catherine Hagerman about electricity-producing solar power. "We're disappointed, not discouraged."
"I was told that small jobs were not feasible; you're not going to make any money on this," Bristow-Carrico said. "I said, 'I don't care; look at the future. These are the future.' "
Few small systems in use
Solar panels might be the future in New Hampshire, but they aren't much of the present.
Fewer than 100 solar systems are hooked into the electrical grid in New Hampshire, according to the most recent data reported by the state's electric utilities. Most are small, with output of just a kilowatt or two. (That report is almost a year old, so the number is higher now – but probably not a lot higher.)
Officials want to increase this number greatly as part of attempts to raise the state's use of alternative energy. Because of New England's climate, which reduces the return from utility-level solar facilities, it seems likely that the best way for solar power to help is through lots of small solar installations at homes or small businesses.
>>State encourages small solar systems
The average house rarely uses more than two kilowatts – 2,000 watts – at a time. The Hagermans' system has a theoretical maximum of 1.12 kilowatts.
In hopes of encouraging the amount of small solar units, New Hampshire this year created a one-time payment of up to $6,000 for owners of very small renewable-energy systems – less than 5 kilowatts – in an attempt to get more homes to install systems, which can cost $20,000 or more.
"We're just starting to create this incentive program. It hasn't had time to work yet," said Jack Ruderman, of the New Hampshire Office of Energy & Planning. "I do see it stimulating growth in the industry eventually."
Salesperson 'disregarded' problems
The industry could use some stimulation, from the Hagermans' point of view. They ended up with a Maine firm because they couldn't find anybody in New Hampshire who wanted to install such a small system.
PhotoVoltUS has installed several arrays in New Hampshire and Maine.
Its price was excellent: $9,800 for five 224-watt PV panels installed on the roof, plus the inverter needed to translate the panels' DC power into the AC used by the electric grid. Hagerman also bought a separate battery and inverter, designed to let him operate the furnace in case of a multiday power outage, adding almost $1,000 to the price.
Bristow-Carrico now says that the deal, sold by a salesman who is no longer with the company, shouldn't have gone through.
"I made a very big mistake by having a salesperson who is overly aggressive, who disregarded some major problems of a client who was super-anxious to have a solar system," he said. "I admit that."
Bristow-Carrico says he was also eager to install a home system because he wanted to expand into the home market, beyond the installations at schools and small institutions that are the bulk of the region's small-solar business.
The array was going to be on the roof of the garage, at right angles to the house, but was moved to the southern exposure of the main roof, for reasons that are disputed.
Neither roof is ideally aligned nor has the perfect pitch to maximize the panels' efficiency. This is a common problem and a potentially serious one, since panels' efficiency falls off sharply when they aren't pointed directly at the sun.
Shortly after the installation in early July, it was obvious that the system wasn't working well. Stephen Hagerman says the five panels didn't even produce enough voltage to activate the inverter. The company added a sixth panel at no cost – "I give them credit for that," Hagerman says – but this wasn't enough, he says.
Trees block sunlight
During a visit Nov. 17, for example, the system appeared to be generating a mere 35 watts in late morning on a sunny day, barely enough for a compact fluorescent light bulb.
It's also obvious that the panels are shaded by the mix of evergreen and deciduous trees on the south side of the house – an issue where the dispute begins to get heated.
"We don't cut trees," Bristow-Carrico said. "We agreed to cut some trees back, but it's up to him to continue to aggressively get the trees cut."
The company did some trimming, but the Hagermans say PhotoVoltUS needs to do some major cutting to make up for the bad design.
"Who goes out and looks at their roof, sees where the shadows are?" Stephen Hagerman said. "Most homeowners don't know that."
Still, he bought two more panels to be added to the installation as it was moved to the garage roof.
However, that roof is older and in worse shape, and the move hasn't gone forward. There is disagreement about who knew this or should have known it, and what should be done now; the Hagermans say the company has abandoned them without explanation, while Bristow-Carrico says the couple has blocked its efforts to fix things.
The result is that the two new panels are sitting in a box in the garage, the other panels are still on the roof but not doing much and the case is headed to court.
Industry isn't regulated
One point that's obvious from this battle is how new the solar-panel industry is.
For example, the Hagermans say they had some trouble finding out from City Hall whether a building permit was needed because so few installations have been done in the city. (Only an electrical permit is needed in Nashua, although the work must follow building codes.)
Similarly, there is no regulated industry for solar installers. The only requirement for solar panels is that a licensed electrician oversees the installation because of its connection to the power lines.
Knowing electricity systems is no guarantee that you know how to locate solar panels, however. Determining how much power will be generated in a small area over the course of an entire year isn't always straightforward, and there's no state-recognized certification program for contractors to reflect such knowledge.
The closest appears to be the North American Board of Certified Energy Practitioners, which is a volunteer group that hasn't been vetted by the state.
Court fights over home contracting work such as roofing, room additions and driveway paving are common and over the years have helped spur the development of standards and practices.